Main content start
News
Appointments to the Hong Kong Sports Institute Board of Directors
27 April 2011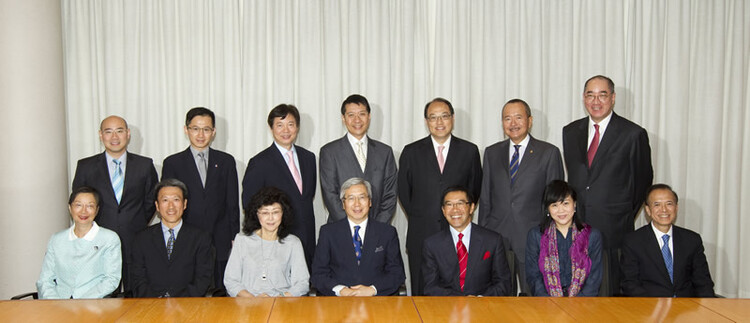 Group photo of new Board of Directors of the HKSI at their first meeting: (Front, from right) Mr Matthias Li Sing-chung, Ms Winnie Ng, Mr Carlson Tong Ka-shing (Vice-Chairman), Dr Eric Li Ka-cheung (Chairman), Ms Vivien Lau Chiang-chu, Mr Adam Koo, Ms Lisa Yip Sau-wah. (Back, from right) Dr Julian Chang Wai, Mr Karl Kwok Chi-leung, Dr Hon Lam Tai-fai, Dr James Lam, Mr Lam Cheuk-yum, Mr Thomas Wu, Mr Benjamin Mok Kwan-yu (Alternate Director). Read More
The HKSI is pleased to announce the appointment of the new Board of Directors for the period between 1 April 2011 and 31 March 2013. Dr Eric Li Ka-cheung is reappointed as the Chairman of the HKSI. Mr Tang Kwai-nang is also reappointed as the Vice-Chairman while Mr Carlson Tong Ka-shing is newly appointed as the Vice-Chairman.
In addition, Dr Julian Chang Wai, Mr Bobby Cheng Kam-wing, Dr Kenneth Chu Ting-kin, Mr Karl Kwok Chi-leung, Dr James Lam, Dr Hon Lam Tai-fai, Ms Vivien Lau Chiang-chu, Mr Matthias Li Shing-chung, Mr Jonathan McKinley, Ms Winnie Ng, Mr Thomas Wu and Ms Lisa Yip Sau-wah are reappointed as members of the HKSI Board.
Four newly appointed Board of Directors include Mr Adam Koo, Mr Lam Cheuk-yum, Mr Michael Lee Tze-hau and Ms Malina Ngai Man-lin.
Dr Eric Li paid tribute to former members for their dedication and enthusiasm in advancing sports development in Hong Kong over the past two years, and welcomed the partnership with the new Board of Directors.
"Being the delivery agent of the HKSAR Government in elite athletes training systems, the HKSI will continue to work in partnership with the Sports Federation & Olympic Committee of Hong Kong, China, and the National Sports Associations to produce elite athletes capable of excelling at the highest level of international sport including World Championships and the rapidly approaching 2012 Olympic and Paralympic Games. While the HKSI redevelopment is in full swing, with a number of world-class training facilities being built, the Board of Directors looks forward to launching new strategic initiatives to ensure that the HKSI's software systems have the capacity and capability to foster elite sports development in Hong Kong in the coming years," said Dr Li.
The following is the membership list of the new Board of Directors of the HKSI:
Chairman:
Dr Eric Li Ka-cheung GBS JP
Vice-Chairmen:
Mr Tang Kwai-nang BBS JP
Mr Carlson Tong Ka-shing JP
Directors:
Dr Julian Chang Wai MH
Mr Bobby Cheng Kam-wing
Dr Kenneth Chu Ting-kin
Mr Adam Koo
Mr Karl Kwok Chi-leung
Mr Lam Cheuk-yum
Dr James Lam
Dr Hon Lam Tai-fai BBS JP
Ms Vivien Lau Chiang-chu JP
Mr Michael Lee Tze-hau
Mr Matthias Li Shing-chung
Mr Jonathan McKinley
Ms Winnie Ng
Ms Malina Ngai Man-lin
Mr Thomas Wu
Ms Lisa Yip Sau-wah JP
echo _('Back to Listing'); ?>