Main content start
News
HKSI Athlete Incentive Awards Scheme for the World University Games
02 August 2005
Dr Chung Pak-kwong, Chief Executive of the HKSI, was invited to the Flag Presentation Ceremony for the 2005 World University Games, where he also announced the HKSI Athlete Incentive Awards Scheme for the World University Games. Read More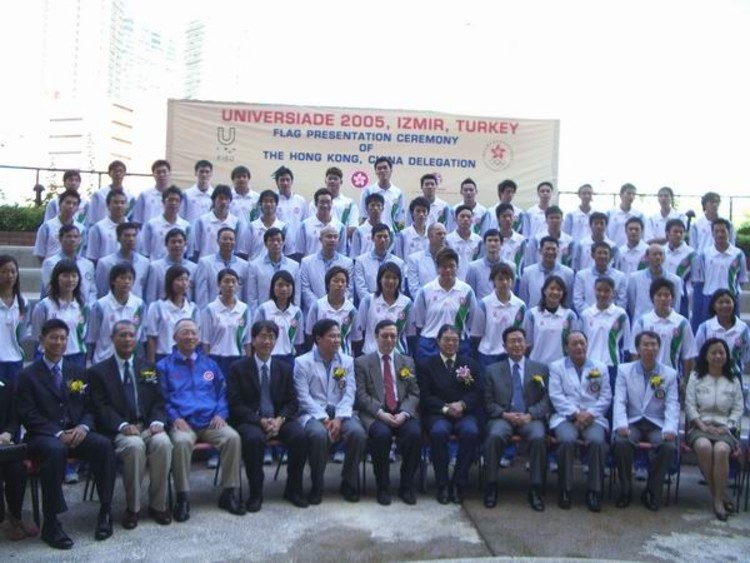 Group photo of the Hong Kong Delegation of the 2005 World University Games and officiating guests of the Flag Presentation Ceremony for the 2005 World University Games Read More
The Hong Kong Sports Institute (HKSI) is pleased to announce the cash incentive scheme for the 2005 World University Games, as recognition to the achievements of Hong Kong's athletes at the Games.
An individual athlete winning a gold medal at the Games will receive HK$250,000, a silver medallist HK$125,000 and a bronze medallist HK$50,000. There are also strong incentives for team events - HK$350,000 for gold, HK$200,000 for silver and HK$100,000 for bronze.
Dr Chung Pak-kwong, HKSI Chief Executive, attended the Flag Presentation Ceremony for the Hong Kong Delegation of the World University Games as a special guest on 2 August 2005. He appreciates the effort of the Hong Kong Post-Secondary Colleges Athletic Association in organising Hong Kong's participation in the World University Games since 1985, and said "Many of the athletes participating in the Games are at the highest competitive level and have been training under the professional coaching and scientific support services of the HKSI. Coupled with the cash incentive which serves as an extra boost to the athletes in their quest of sporting excellence, I am confident that the strongest-ever Delegation for the 2005 Games would bring home historic results and gain glory for Hong Kong".
The HKSI has been offering cash incentive to medal winners of the World University Games since 1995 through the Athlete Incentive Awards Scheme, aiming to encourage and recognise outstanding achievements of the athletes at the Games.
echo _('Back to Listing'); ?>