Main content start
News
The 25th Jockey Club Elite Coaches Conference
High Performance Coaching for Athletes with Disability and Planning for Tokyo Paralympics
18 November 2017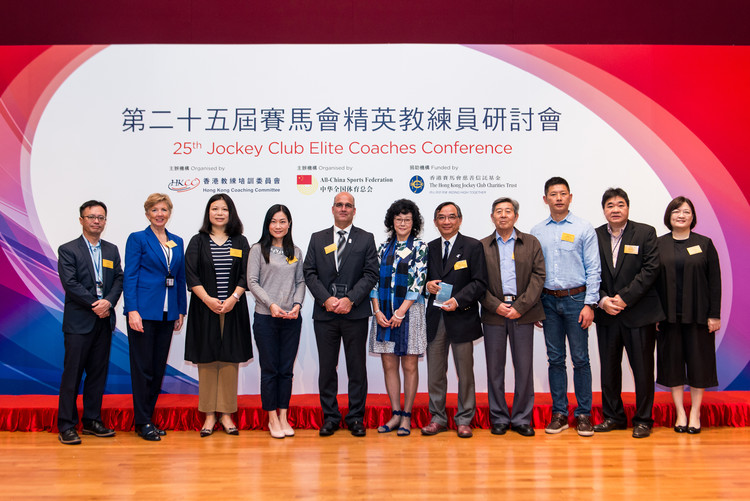 Ms Lau Chiang-chu Vivien BBS JP (centre), Chairman of the Hong Kong Coaching Committee; and Ms Fan Yinghua (3rd left), representative of All-China Sports Federation; take a group photo with all the speakers, including Dr Andy Van Neutegem (5th left); Mr Hua Qingpang (4th right); Mr Huang Peng (3rd right); Mr Lam Chun-ying Martin (5th right); Dr Huang Yeung-chi Ronnie (4th left); and representatives from the Hong Kong Sports Institute, including Dr Trisha Leahy BBS (2nd left), Chief Executive; Mr Tony Choi Yuk-kwan MH (2nd right), Deputy Chief Executive; Ms Margaret Siu (1st right), Director, High Performance Management and Dr Raymond So (1st left), Director, Elite Training Science & Technology. Read More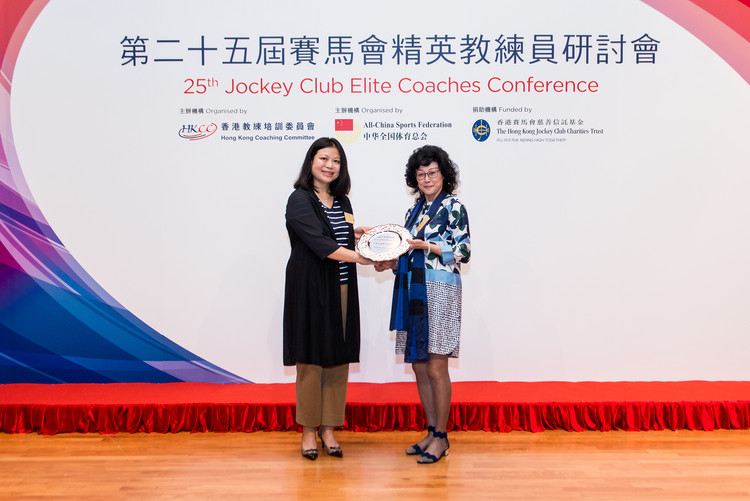 Ms Lau Chiang-chu Vivien BBS JP (right), Chairman of the Hong Kong Coaching Committee, presents souvenir to Ms Fan Yinghua, representative of All-China Sports Federation. Read More
The Jockey Club Elite Coaches Conference, which aims at providing a platform for overseas and mainland China experts as well as local coaching professionals to exchange ideas on sports coaching, is part of the Jockey Club Elite Coaching Development Programmes. The Programmes, together with the Jockey Club Coaching Accreditation Programmes and the Jockey Club Community Education and Coach Recognition Programmes, are all under the Hong Kong Jockey Club Coach Education Programme funded by The Hong Kong Jockey Club Charities Trust with a donation of nearly HK$9.7 million since November 2015 to further support the professional development of coaches.
The 25th Jockey Cub Elite Coaches Conference, jointly-organised by the Hong Kong Coaching Committee (HKCC) and the All-China Sports Federation, took place on 18 November at the Hong Kong Sports Institute (HKSI). This year's Conference, under the theme of "High Performance Coaching for Athletes with Disabilities", invited five coaching and sports science experts to share their different training approaches for elite athletes with disabilities in Canada, mainland China and Hong Kong respectively and exchange ideas on planning for the Tokyo 2020 Paralympic Games.
Ms Lau Chiang-chu Vivien BBS JP, Chairman of the HKCC, and Ms Fan Yinghua, representative of All-China Sports Federation, officiated the opening ceremony of the Conference.
Ms Lau thanked the speakers and also the All-China Sports Federation for its continuous support as well as The Hong Kong Jockey Club Charities Trust for its donation for the Conference to back up and promote coach education in the territory. She concluded, "There are still two and a half years to go before the Tokyo Olympic and Paralympic Games. We hope that coaches can gain some insights today and be able to apply them on regular training, nurturing more elite athletes to achieve better performance for Hong Kong."
Ms Fan welcomed all the speakers, experts and coaches. She said the Conference today provided a very good platform for coaches in Hong Kong and mainland China to exchange views on training and cooperation, and enhance the sports development of Hong Kong. She added, "All-China Sports Federation will continue to support Hong Kong sports development, and maintain close collaboration with the HKCC. We hope the Elite Coaches Conference can become an international coaches conference in Asia."
The first speaker at the Conference was Mr Lam Chun-ying Martin, General Secretary of Hong Kong Paralympic Committee & Sports Association for the Physically Disabled. He shared global and local development of sports for persons with impairments. He quoted the approach of Dr Ludwig Guttmann, which regards sports as a paramount part of the remedial treatment and total rehabilitation of persons with a disability, to explain the global development of disability sports. He also introduced the role and future development of Hong Kong Paralympic Committee & Sports Association for the Physically Disabled, as well as the challenges faced by the Association.
Mr Hua Qingpang, Disability Sports Expert and Beijing Olympic China National Team Training Consultant, presented an overview of the development of disability sports in mainland China. He outlined the characteristics of disability sports and analysed development of athletes with disability in the Mainland from National Games for Persons with Disabilities. He pointed out Chinese athletes with disability would spend more effort on winter events to strive for better performance.
The third speaker, Dr Andy Van Neutegem, who is from OWN THE PODIUM, Canada, illustrated coach education system for the Olympic and Paralympic Games in Canada and the practice of coach certification in Canada. He then went on to introduce Paralympic athlete development model and an integrated high performance model adopted in Canada.
Dr Huang Yeung-chi Ronnie, Senior Optometrist, School of Optometry from The Hong Kong Polytechnic University shared about sports and vision by explaining the range of services in this area. She pointed out common misunderstanding towards sports vision and revealed that appropriate vision correction could help athletes enhance their performance. She also illustrated the content of comprehensive assessments on vision and sports vision.
The last speaker, Mr Huang Peng, Training Section Manager of Shanghai Disabled Persons' Sport Training Center shared his experience on training elite athletes with disabilities in China. He presented the development of wheelchair racing in mainland China and training programmes for elite athletes with high performance, such as pre-training test, systematic scientific training, strategy analysis and recovery treatment.
The Conference attracted nearly 200 coaches and sports science experts to attend. They all found it fruitful and beneficial to their understanding of the development of elite sports training for athletes with disabilities in different countries and regions.
Related News
echo _('Back to Listing'); ?>