Main content start
News
Sports Psychologists Share Experience at Elite Coaches Seminar
30 October 2004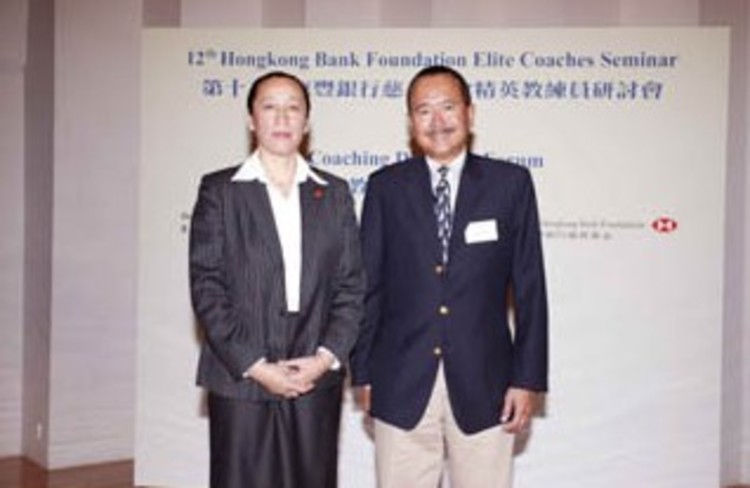 Yin Feifei, Deputy Director of the Science and Education Department, All-China Sports Federation (left) and Karl Kwok, former HKCC Chairman (right) welcome coaching directors of the National Sports Associations in Hong Kong and Mainland China, local coaches and elite athletes to the 12th Hongkong Bank Foundation Elite Coaches Seminar cum Coaching Directors Forum. Read More
Yin Feifei, Deputy Director of the Science and Education Department, All-China Sports Federation (third from right) takes photo with the speakers and the representatives of overseas delegates – Professor Ren Weiduo, Vice Director, Beijing Research Institute of Sports Science (left); Dr Clark Perry, Senior Psychologist, Australian Institute of Sports (second from left); Mike McHugh, National Coaching Consultant. Performance Division of Sport and Recreation New Zealand (third from left); Professor Ding Xueqin, Researcher, China Institute of Sports Science (centre); Dr Si Gangyan, Sport Psychologist, Hong Kong Sports Institute (second from right) and Dr Timur Absaliamov, Deputy Director of Institute, All-Russian Scientific Research Institute for Physical Culture and Sport (right). Read More
Sports psychologists from Australia, China and Hong Kong shared their experience at the 12th Hongkong Bank Foundation Elite Coaches Seminar cum Coaching Directors Forum, which was successfully held on 29 and 30 October at Sports House. Over 100 guests, including coaching directors of the National Sports Associations in Hong Kong and Mainland China, local coaches and elite athletes, attended.
Jointly organised by the Hong Kong Coaching Committee (HKCC) and All-China Sports Federation, with the full support of the Hongkong Bank Foundation, this annual event aims to facilitate exchange and linkage between Hong Kong and Mainland China in coach training.
Karl Kwok, former Chairman of HKCC welcomed the local and overseas experts at the opening ceremony. "The theme for this year's seminar is sports psychology, a topic of utmost importance to coaches and athletes. Renowned speakers from different regions will share their expertise and views in this area. I am confident that this international seminar can provide insights for coaches to assist athletes to break the mental edge," he said.

Dr. Si Gangyan, Sport Psychologist at the Hong Kong Sports Institute (HKSI), spoke on "Adversity Coping in High Athletic Performance". Dr. Si has been helping Hong Kong's elite athletes in several high performance sports, including Athens Olympics men's table tennis silver medallists Ko Lai-chak and Li Ching.

The China delegation was headed by Yin Feifei, Deputy Director of the Sports Science and Education Department of the All-China Sports Federation, and two speakers - Professor Ren Weiduo, Vice Director of Beijing Research Institute of Sports Science, and Professor Ding Xueqin, Researcher at China Institute of Sports Science.
Professor Ding, who had provided numerous professional services to Hong Kong's leading athletes during her previous visits to the HKSI, spoke on "The Application of Biofeedback in Competitive Sports" and Professor Ren presented "Testing and Measurements of Electroencephalogram (EEG) in Sports".
Overseas experience was shared by Dr. Clark Perry, Senior Psychologist at the Australian Institute of Sport. Dr. Perry discussed "Dealing with Burnouts in Young Athletes - A Guiding Practice". Dr. Perry has been the psychologist to the Australian Olympic Swim Team and attended four Olympic Games.
Apart from the many quality presentations, the two-day event also featured a coaching directors' forum during which overseas experts shared their experience in the latest developments in coaching.
Mike McHugh, National Coaching Consultant at Performance Division of Sport and Recreation New Zealand, talked about his country's coaching strategy while Dr. Timur Absaliamov, Deputy Director of Institute of All-Russian Scientific Research Institute for Physical Culture and Sport, gave a detailed presentation on the education of Russia's high-level coaches. Ding Tao, Assistant Researcher of the All-China Sports Federation, shared his views on how to enhance coach education training for national coaches in China. Dr. Clark Perry analysed the relationship of sport psychology to coach education in Australia. The forum was wrapped up by Dr. Trisha Leahy of the HKSI, who briefed participants on the scientific support to elite coaching in Hong Kong.
echo _('Back to Listing'); ?>