主内容開始
運動員網誌
2022年8月
From Junior to Elite – What Sports Brings Out in Me
By Soo Wai-yam – Table Tennis Athlete
At the age of fifteen, I joined the elite training programme of the Hong Kong Sports Institute (HKSI) to pursue my dream as a world-class athlete. Victory has always been my driving force to train and aim for perfection. Transitioning from a part-time student-athlete to a full-time sports elite, my mind was often preoccupied with one imagination…
Score, 10:9. I served a perfect ball, and with one amazing forehand stroke, I smashed the ball mercilessly as the opponent stumbled to reach for the ball. 11:9! I screamed victoriously after winning the last point of a world-class tournament, and lifted the cup proudly as I became the champion.
The belief that I will succeed one day motivated me to work hard, but I could never imagine that my stature as a young rising star would decline so suddenly and rapidly. In 2020, I encountered some significant changes in my sports career, changes that I thought would destroy me.
First of all, it was the COVID-19 pandemic. All tournaments were cancelled, which was devastating for athletes who prepared so hard to push themselves to a peak condition to compete. Two weeks after the cancellation of the World Team Table Tennis Championships, I unfortunately got injured in my hips, which made me staggering like an old lady for six months. Ensuing the tedious wait to get back to the table, I felt something strange about my arm. I couldn't control my movements as I used to be, and this made me unable to perform certain techniques.
I spent about three months in denial and another three months in irritation and angst. In early 2021, I took the initiative to go to a neurologist finally. I was diagnosed with focal dystonia (also known as "YIPS"), a neurological disorder involving involuntary muscle spasms when exercising precise movements.
While the team increased training intensity in preparation for the Tokyo 2020 Olympics six months ahead, the dystonia showed no sign of improvement. My movements became more rigid and deformed day after day, especially in practice. I was horrified, desperate, ashamed, and furious. I could no longer imagine myself winning, nor was I able to perfect my techniques. I neglected all the help due to shame and doubted myself so much that I thought I didn't deserve to participate in the Games.
It was one occasion that changed my point of view. I played a friendly match with team China, and my arm felt extremely uncontrollable on that particular day. My arm kept jerking before I served and my movements were rigid. Due to severe inferiority, I immediately assumed all other players would laugh at my weird movements.
Surprisingly, my opponent said my spasms made my service extremely unpredictable. At that moment, I realised the injury in my arm did not make me a bad player. Sport isn't only about exercising perfection in everything — it is about acknowledging your strengths and bringing out your undiscovered potential.
I used to aim for perfection — I wanted to be fast, strong, tactical, and have perfect strokes, but my perspective must change at the point of injury. Being unable to polish my techniques, I dwelled upon improvisation on my tactics and tried to think out of the box. At the same time, I embraced unorthodoxy, positively accepted my injury, and completed every training with my best. I learned that the key to unleash potential isn't to stress yourself to be unrealistically perfect but to squeeze out every last ounce of effort you got.
The Tokyo 2020 Olympics was a huge roller coaster ride for me. Contrary to the pumped-up atmosphere at the Olympic Village, I felt disastrous most of the time. I constantly worried about my injury and was consumed with anxiety. The day before the bronze medal match, I told the physiotherapist that I was afraid of losing 0:11 in the match. Luckily, with encouraging teammates, and a supportive entourage from the HKSI, including sport physiotherapists and strength and conditioning coaches, I stayed strong and fought till the end. If there was one thing I learned to be highly precious in my sports career, that would be team spirit. Without this amazing bunch of people, I would have crumbled. Because of this camaraderie, I could unleash my full potential and achieve something that seemed to be so unreachable.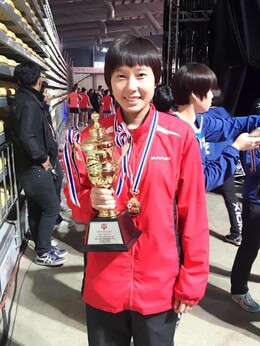 Thinking backward, when I was just fifteen, I stepped into this sports career with extremely high expectation — I must win, I have to be perfect, I must be the champion. I was never satisfied with myself. Until one day, my capability to aim for perfection was ripped away. In these nine years, I learned three essential mindsets that turned me from a junior sports amateur to a professional athlete. Firstly, work hard with not only your body but also with your mind. The mind is what differentiates a person from a machine, no matter how strong one becomes. Secondly, teamwork and mutual trust are extremely powerful. I made great friends at the HKSI, and we, together, made incredible accomplishments. Ultimately, never think that you are not going to make it. No matter what, keep doing what you love, one step at a time. Find all the ways to conquer the obstacles, but quitting is never the option.
Suffering from focal dystonia, I lost the glamour of a young rising star and the hope of becoming a champion. I thought that my injury would take away everything from me. However, it miraculously turned out to be a stepping stone to the highest achievement in my career. It gave me the most treasured lesson, which shaped me not only into an Olympic medallist but, more importantly, to become a better and stronger person.
echo _('Back to Listing'); ?>