主内容开始
运动员网志
2022 年6 月
How Can Elite Training Demonstrate Lion Rock Spirit?
By Sidney Chu – Skater
Cheerful performers and a roaring crowd greeted us as we walked into the Bird's Nest in Beijing, China. I remember watching the Beijing 2008 Summer Olympics as a child and the light and loose attire worn by athletes at the opening ceremony as they walked through the Bird's Nest. However, when I got the chance to attend the opening ceremony for the Beijing 2022 Winter Olympics and had the honour to serve as the flag bearer for Hong Kong, each delegation outfitted themselves with warm sweaters, hats, snow boots and face masks. The engineers that built the Bird's Nest for the 2008 Summer Olympics clearly had no intention whatsoever to reuse the outdoor stadium for an event held in one of the coldest months of the year. After walking at the opening ceremony and taking our seats in the stadium, I could barely keep my eyes open for the entire ceremony, huddling myself in my down jacket to protect myself from the -5°C frost.
As each country's delegation rolled into the Bird's Nest, I began to notice tropical countries or territories like Ecuador, Jamaica, Mexico, and Thailand that did not have a natural climate to support training for a winter sport, let alone send athletes to the Winter Olympics. I felt a big sense of respect for those athletes. While their Olympic delegations may not have been as large or high performing as other countries or territories, the act of qualifying for the Winter Olympics in the face of enormous natural challenges and lack of facilities deserved an entirely different package of deep respect. Training for short track speed skating from Hong Kong, a subtropical city that never snows and with environment constraint, I felt a deep connection to the other athletes from tropical countries or territories. I resonated deeply with those athletes after learning about the barriers and challenges they had to face to constantly travel overseas for training, or to make use of training in their home countries or territories without ice or snow, or the numerous challenges brought by the COVID-19 pandemic.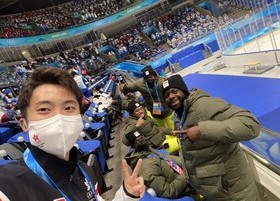 While each Olympic delegation was waiting for their turn to enter the Bird's Nest, I had the honour of sitting close to the Jamaican delegation, and right next to me were the legendary athletes from the Jamaican bobsled team. We immediately bonded and started a natural conversation about participating in the Winter Olympics as representatives of tropical countries or territories. For about half an hour, we talked about our stories of qualifying for the Games, the ways we adapted our training during the pandemic, and the unique ways of doing "dryland" training when snow or ice was unavailable.
Back to the time when I was in secondary school, I travelled with the Hong Kong team every weekend to Dongguan to access the Olympic-sized ice rink there. From Monday to Thursday, our team would do strength training and "dryland" training –– a series of muscle-building exercises designed to imitate the motions of speed skating. Through multiple overseas and mainland training camps, I feel my passion and interest in speed skating regardless of all the difficulties that I have encountered.
When I was training for the Olympics, my friends and family thought my pursuit was "too exhausting". Some said training for a winter sport in Hong Kong seemed meaningless as there did not seem to be a necessity to train for a sport that Hong Kong naturally has no conditions for. Some also said that funding winter sports training in Hong Kong was a waste. I considered these comments seriously for the majority of my athletic career but I had no good answers for them besides my passion in the sport and enjoying the thrill of speed on ice. Those answers didn't seem to be enough. But soon after the opening ceremony for the Beijing Winter Olympics, I found an answer I believed in. It seemed that there was an underlying meaning beneath what seems like pointless hurdles for an unpopular sport in Hong Kong.
Training for speed skating in Hong Kong is a demonstration of the Lion Rock spirit –– an endless desire to conquer all odds and a persevering commitment to hard work, which is a tribute to the headstrong livelihood of the Hong Kong people from the 1970s and beyond. As a kid, I understood the Lion Rock spirit to be an endless pursuit of greatness regardless of the barriers and challenges. For the Hong Kong, China Delegation to qualify for its first Winter Olympics with two short track speed skating athletes in 2002 and qualify for five more Winter Olympics since then, that to me is a show of the Lion Rock spirit. For the Hong Kong team to rank amongst the top 30 athletes in the world and achieve significant results on the international and Asian stage while training in shopping mall ice rinks, that to me is a show of the Lion Rock spirit.
As I continue striving to achieve better results for Hong Kong, I keep sharing my story of perseverance to the public and help promote the sport of speed skating to as many Hong Kong youth as possible. I hope that, once I retire from the sport, my legacy includes not only my own athletic achievements but also my inspiration to Hong Kong youth to take on a life-changing career in sports and my exemplification of the Lion Rock spirit in their everyday lives.
echo _('Back to Listing'); ?>