Developing Coaches
The HKSI has established a comprehensive range of coaching services to meet the needs of athletes and local sports development. Our Coach Education Department is responsible for implementing the Coach Education Programme and the Coaching Awards in Hong Kong on behalf of the Hong Kong Coaching Committee (HKCC), which is a joint committee of the SF&OC and the HKSI.
The Hong Kong Coaching Committee implements the Hong Kong Jockey Club Coach Education Programme (HKJCCEP), which is funded by the Hong Kong Jockey Club Charities Trust with a total donation of some HK$9.7 million since November 2015, and aims to ensure quality, internationally benchmarked coaching is maintained at all levels of sport, for long-term sports development in Hong Kong.
The HKJCCEP has three main components: the Jockey Club Elite Coaching Development Programmes, the Jockey Club Coaching Accreditation Programmes, and the Jockey Club Community Education and Coach Recognition Programmes. In 2017/18, a total of 2,263 coaches benefited from the HKJCCEP.
Coaches Benefited
From HKJCCEP
in 2017/18
No. of Coach
Education &
Accreditation
Programmes
Organised
One of the highlights of the year at the HKSI was the annual Jockey Club Hong Kong Coaching Awards, which recognises coaches' efforts and dedication. The 2017 presentation ceremony was held on 22 April 2018, unveiling a list of 175 awardees. Officiated by Mr Lau Kong-wah, Secretary for Home Affairs, the annual event aims to recognise the dedication of coaches in nurturing Hong Kong athletes to pursue outstanding sporting results and developing sports across the community and school levels.
This year, a record 223 nominations were received competing for honours in seven categories: Coach of the Year Awards, Distinguished Services Award for Coaching, Coach Education Award, Best Team Sport Coach Award, Coaching Excellence Awards, Community Coach Recognition Awards and School Coach Recognition Awards. Recipients of the individual awards were as follows:
Awards
Recipients

Coach of the Year Awards

Senior Athletes,
Individual Sport

Wayne Griffiths (billiard sports)

Senior Athletes,
Team Event

Chan Hui (table tennis for persons with intellectual disability)

William Edward Hoffman (tenpin bowling)

Junior Athletes,
Individual Sport

Wang Changyong (fencing)

Lam Chi-pang (table tennis for persons with intellectual disability)

Junior Athletes,
Team Event

Leung Kan-fai (squash)

Distinguished Services Award for Coaching

Adem Osman (lawn bowls for physically disabled)

Coach Education Award

Lam Chun-kwok (volleyball)

Best Team Sport Coach Award

Milan Krasny (dragon boat)
The Coaching Excellence Awards were presented to 99 coaches, while 35 coaches received Community Coach Recognition Awards. The School Coach Recognition Awards honoured 32 full-time teachers for making special contributions to school sports.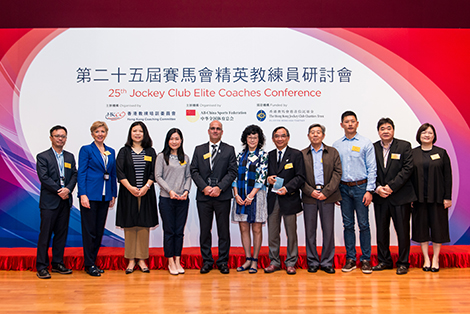 Another important event was the 25th Jockey Club Elite Coaches Conference on 18 November 2017. Jointly organised by the HKCC and the All-China Sports Federation, and with the theme "High Performance Coaching for Athletes with Disabilities", the conference invited five coaching and sports science experts to share their different training approaches for elite athletes with disabilities in Canada, mainland China and Hong Kong, and exchange ideas on planning for the Tokyo 2020 Paralympic Games. It was attended by nearly 200 coaches and sports science experts.
In addition to exchanges of coaching knowledge with local and overseas counterparts, regular courses and seminars were organised for coaches at all levels from community to elite, to help them develop the latest skills they need, enhance their level of recognition and facilitate their career advancement.
The Bachelor of Education in Sports Training Programme, organised by Beijing Sport University (BSU) and administered by the HKSI, is the first degree course in sports training using Chinese as the medium of instruction. The qualification is equivalent to a degree from BSU and widely recognised in other countries. Since receiving its first intake in 1999, the programme has nurtured many elite athletes and professional coaches in Hong Kong. As at 31 March 2018, a total of 79 students had completed the course, while 20 were enrolled in it.
To enhance the professional recognition of coaches, three new cohorts were organised for the Foundation Certificate in Sports Coaching Theory (FSC) course in 2017; and one cohort for the Certificate in Advanced Sports Coaching Theory (ASC) course in early 2018. The FSC and ASC were accredited by the Qualifications Framework (QF) of the Hong Kong Council for Accreditation of Academic and Vocational Qualifications at QF Levels 2 and 3, respectively. In addition, four Introductory Sports Coaching Courses were held to address NSAs' needs for training new coaches at the community level.
During the year, 12 seminars and talks were also held under the Jockey Club High Performance Coaches Development, the Jockey Club Continuing Coach Education Programme and the Jockey Club Community Education Programmes on Coaching Profession, attracting the attendance by nearly 2,000 coaches and members of the public.
In addition, a total subvention of HK$800,000 was provided by the HKCC to NSAs in order to organise 82 short-term coach education and recognition programmes, which collectively benefited around 3,000 coaches.