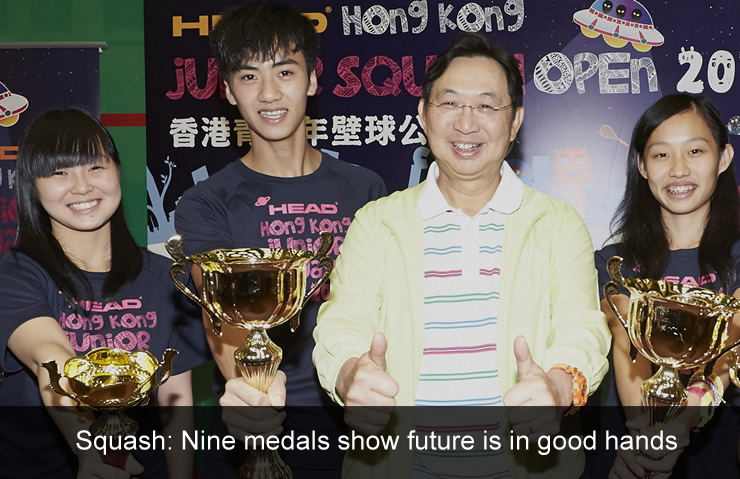 The next generation of Hong Kong squash talent showed the future is bright with a medal haul of 3 gold, 4 silver and 2 bronze at the HEAD Hong Kong Junior Squash OpenˇK
More

---

Rugby Sevens: Hong Kong teams kick off Asian Sevens Series in impressive style
Hong Kong's men's and women's teams won gold and silver respectively in the first leg of the Asian Sevens SeriesˇK
More

Table Tennis: Bumper haul for youngsters
Local players won 13 medals at the Nikon Hong Kong Junior & Cadet Open despite a strong field of mainland China's top young talentˇK
More

Tenpin Bowling: Mak takes bronze at World Youths
Mak Cheuk-yin took third place in the boys' singles at the 13th Chinese Gold & Silver Exchange Society World Youth Championships held in Hong KongˇK
More
II. Sporting Achievements (1 - 31 August)
---
Squash: Nine medals show future is in good hands

The next generation of Hong Kong squash talent was on display at the HEAD Hong Kong Junior Squash Open, and showed the future is bright with a medal haul of 3 gold, 4 silver and 2 bronze.

The tournament is one of the longest-running and most highly regarded events for young players in Asia, now in its 46th year. This year's event, from 29 July to 2 August, saw more than 500 individual entries from 14 different countries.

Homegrown players took gold in both under-19 events, Yuen Tsun-hei in the boys' and Ho Tze-lok in the girls'. Hong Kong's other gold was in the girls' under-15 event – Lui Hiu-lam took top place on the podium and Cheng Nga-ching won silver.

ˇ§The quality of play was incredibly high and impressive,ˇ¨ said Hong Kong Sports Institute (HKSI) Head Squash Coach Tony Choi. ˇ§It attracted quite a lot of high-level players, especially from Asia, to take part, including the new medallists from the Asian Junior Individual Championships.ˇ¨

The coach said of Yuen and Lui: ˇ§They were the two most outstanding Hong Kong young players, who performed very well throughout the competition and demonstrated good quality of play. Both of them are in the current national squad, who have trained well under the HKSI's elite training programme.ˇ¨

Choi believes the sport has never been healthier in Hong Kong: ˇ§[It] has been nurtured in a healthy way with the effective execution of a junior development feeder system.

ˇ§The level of play nowadays is much improved and higher than in the past. Lots of Hong Kong juniors have achieved some distinctive results in numerous World and Asia junior championships and tournaments.ˇ¨

And senior players such as Annie Au Wing-chi, Joey Chan Ho-ling and Max Lee Ho-yin have proved role models.

ˇ§[Their success in recent years] can definitely set a good example for local juniors and inspire them with the possibility of success and reaching the top of the world as a Hong Kong player,ˇ¨ added Choi.

ˇ§Nowadays more juniors are deciding to turn full-time in their golden development time, as they can see the importance of training full-time as a professional athlete.

ˇ§The next challenges are the coming major World and Asian junior championships and numerous world junior circuit and Asian junior Super Series events in 2015, and I believe some of them, like Yuen and Lui, will have a good chance to achieve more good results for Hong Kong.ˇ¨

Meanwhile, at senior level, Lee Ho-yin's impressive season continued when he finished second at the CIMB Malaysian Open Squash Championships held from 18 to 23 August in Kuala Lumpur.

Lee, who became the first Hong Kong man to win direct entry into the main draw of the Hong Kong Open this year, had another first when he upset world number seven Borja Golan of Spain in the semis in Malaysia – the first time a Hong Kong men's player had beaten a player in the world's top 10.

Top seed Mohamed Elshorbagy was too strong in the final, but Lee – now a career-high world No.20 – has never felt more confident.

ˇ§I used to be stressed out before a match and worry a lot, but now I am calmer and more relaxed,ˇ¨ he told local press. ˇ§My mental game is far better and this has helped me improve. All this is due to a lot of hard work. The harder I train, I feel more confident in my mind.ˇ¨

Athlete
Event
Medal
HEAD Hong Kong Junior Squash Open
Lui Hiu-lam
Girls Under 15
Gold
Yuen Tsun-hei
Boys Under 19
Gold
Ho Tze-lok
Girls Under 19
Gold
Cheng Nga-ching
Girls Under 15
Silver
Ho Ka-wing
Girls Under 17
Silver
Lau Tsz-kwan
Boys Under 19
Silver
Choi Uen-shan
Girls Under 19
Silver
Ng Ka-yiu
Boys Under 17
Bronze
Lam Wing-hei
Girls Under 19
Bronze
CIMB Malaysian Open Squash Championships
Lee Ho-yin
Men's Singles
Silver

Right: Lui Hiu-lam
Right: Yuen Tsun-hei
Right: Ho Tze-lok
From left: Lui Hiu-lam, Yuen Tsun-hei, David Mui, MH, JP (Chairman, Hong Kong Squash), Ho Tze-lok

Left: Lee Ho-yin

Lee Ho-yin

(Photos provided by the Hong Kong Squash)
---
Rugby Sevens: Hong Kong teams kick off Asian Sevens Series in impressive style

Hong Kong's rugby sevens teams are, for the first time this season, competing as full-time athletes thanks to the support of the HKSI, and the impact was immediately apparent with gold for the men and silver for the women in the first leg of the Asian Sevens Series held in Hong Kong from 23 to 24 August.

The men's team romped unbeaten to the final where they hammered South Korea 40-0, while the women's team exceeded their expectations by stunning Japan in the semis to reach the final against China, the regional powerhouse winning 38-7.

ˇ§We set our sights on winning this leg and this sets us up for the series and will give us momentum going into the Asian Games,ˇ¨ said HKSI Head Rugby Coach Gareth Baber.

It was the women's first ever Cup final, and the delighted women's coach Anna Richards admitted: ˇ§We targeted a top three and this exceeded our expectations, but having said that I want our girls to aim high. The girls have come a long way but I want them to do even better.ˇ¨

And there was further success for Sevens with victory in the ARFU U20 7s Championship earlier in August in Malaysia.

Back row from left: Alexander Donnell Post, Richard Nichol Lewis, Kwok Pak-nga, Calvin Tang Hunter, Chui Ho-ching, Rupert Philips
Front row from left: Danial Jeff Davidson, Edward Liam Owens, Eden Hugo Stiles, Jason Jeyam, Kevin Field, Joshua Clery

(Photo provided by the Hong Kong Rugby Football Union)

Athlete
Event
Medal
ARFU U20 7s Championship, 1st leg
Chui Ho-ching, Joshua Clery,
Danial Jeff Davidson*, Calvin Tang Hunter*,
Kwok Pak-nga*, Richard Nichol Lewis*,
Edward Liam Owens, Alexander Donnell Post*,
Eden Hugo Stiles
Men's 7-a-side
Gold
ARFU Asian Rugby Sevens Series, 1st leg
Jack Alfie Capon, Michael Coverdale,
Nicholas Daniel Hewson, James Paul Hood,
Tomasi Lawa, Jones Ross Lee,
Lee Ka-to, Alexander Robert McQueen,
Thomas William McQueen, Rowan Varty,
Max John Woodward, Yiu Kam-shing
Men's 7-a-side
Gold
Chan Leong-sze, Cheng Ka-chi,
Cheng Tsz-ting, Fong Siu-lan,
Christine Gordon, Kwong Sau-yan,
Lai Pou-fan, Li Nim-yan,
Natasha Shangwe Olson-Thorne, Poon Pak-yan,
Amelie Odile Marie Seure, Lindsay Varty
Women's 7-a-side
Silver
*Non-HKSI Scholarship Athlete
---
Table Tennis: Bumper haul for youngsters

The Nikon Hong Kong Junior & Cadet Open, an ITTF Premium Junior Circuitevent, was held from 6 to 10 August and local players won 13 medals despite a strong field of mainland China's top young talent.

In the junior category, Doo Hoi-kem, ranked No.1 in the world at under-18 level, and Lam Siu-hang had the best results with bronze in the girls' and boys' singles respectively.

Doo also won silvers in the junior doubles with Soo Wai-yam and the junior team with Soo and Lam Yee-lok.

Lam Siu-hang matched Doo's tally with silvers in the junior boys' doubles (with Ho Kwan-kit) and team (with Ho and Hung Ka-tak).

Hong Kong had a clean sweep of the podium places in the cadet girls' doubles, and took gold and bronze in the cadet girls' team event.

| | | |
| --- | --- | --- |
| Athlete | Event | Medal |
| Ellie Fong, Wong Chin-yau | Cadet Girls' Doubles | Gold |
| Lee Ka-yee, Leung Tsz-ching | Cadet Girls' Team | Gold |
| Lee Ka-yee, Leung Tsz-ching | Cadet Girls' Doubles | Silver |
| Ho Kwan-kit, Lam Siu-hang | Junior Boys' Doubles | Silver |
| Ho Kwan-kit, Hung Ka-tak, Lam Siu-hang | Junior Boys' Team | Silver |
| Doo Hoi-kem, Soo Wai-yam | Junior Girls' Doubles | Silver |
| Doo Hoi-kem, Lam Yee-lok, Soo Wai-yam | Junior Girls' Team | Silver |
| Lee Ka-yee | Cadet Girls' Singles | Bronze |
| Au Yeung Mei-yin, Leung Ka-wan | Cadet Girls' Doubles | Bronze |
| Ellie Fong, Wong Chin-yau | Cadet Girls' Team | Bronze |
| Lam Siu-hang | Junior Boys' Singles | Bronze |
| Doo Hoi-kem | Junior Girls' Singles | Bronze |
| Liu Qi, Mak Tze-wing | Junior Girls' Team | Bronze |

From left: Doo Hoi-kem, Hung Ka-tak
Doo Hoi-kem
From left: Lee Ka-yee, Leung Tsz-ching
From left: Leung Tsz-ching, Lee Ka-yee, Guan Jianhua (Table Tennis Coach, HKSI)

(Photos provided by the Hong Kong Table Tennis Association)
---
Tenpin Bowling: Mak takes bronze at World Youths

Hong Kong's Mak Cheuk-yin took third place in the boys' singles at the 13th Chinese Gold & Silver Exchange Society World Youth Championships from 6 to 15 August held in Hong Kong.

More than 250 athletes from 46 countries across the Americas, Europe and Asia took part in the prestigious youth tournament.

Mak advanced into the semi-finals as second seed after scoring a total of 1417 in the opening rounds, but was overcome by third seed and eventual gold medallist Choi Woo-sub of Korea, 176-217.

Mak Cheuk-yin

Mak Cheuk-yin

(Photos provided by the Asian Bowling Federation)
---
Billiard sports athlete Cho Bing-sum wins 1 bronze medal at the APBU Asian Junior Championship

Billiard sports athlete Cho Bing-sum won a bronze medal in the Girls' Singles event at the APBU Asian Junior Championship held on 6 - 10 August in Taipei, Taiwan.

Left : Cho Bing-sum

(Photo provided by the Asian Pocket Billiard Union)
---
Gymnastics athlete Chan Cheuk-lam wins 1 silver medal at the National Junior Championships

Gymnastics athlete Chan Cheuk-lam won a silver medal in the Girls' Vault - Group A Age 12 event at the National Junior Championships held on 1 - 10 August in Fosan, China.

Chan Cheuk-lam

(Photo provided by The Gymnastics Association of Hong Kong, China)
---
Karatedo athlete Wong Wing-kwan wins 1 bronze medal at the 14th AKF Cadet, Junior & U-21 Championships

Karatedo athlete Wong Wing-kwan won 1 bronze medal in the U21 Female Individual Kata event at the 14th AKF Cadet, Junior & U-21 Championships held on 4 - 10 August in Kuala Lumpur, Malaysia.

Wong Wing-kwan
---
Triathlon team wins 3 medals at the Singapore ASTC Triathlon Asian Cup
The Hong Kong triathlon team won 1 gold, 1 silver and 1 bronze medal at the Singapore ASTC Triathlon Asian Cup held on 16 - 17 August in East Coast Park, Singapore.
| | | |
| --- | --- | --- |
| Athlete | Event | Medal |
| Kok Yu-hang | Junior Elite Male | Gold |
| Wong Tsz-to | Junior Elite Male | Silver |
| Shuen Chun-kit | Junior Elite Male | Bronze |
---
Elite results roundup (1 - 30 July)
Name
Event
Position / No. Of Entries
Badminton
YONEX Suffolk County Community College
US Open Championships - BWF Grand
Prix Gold Series
Wong Wing-ki
Men's Singles
3rd/72
(8/7/2014, New York, USA)
Cheung Ngan-yi
Women's Singles
3rd/43
YONEX Open Chinese Taipei
Wei Nan
Men's Singles
3rd/88
(15/7/2014, Taipei, Taiwan)
Yip Pui-yin
Women's Singles
3rd/44
Chan Yun-lung,
Tse Ying-suet
Mixed Doubles
3rd/54
Fencing
Asian Fencing Championships
(2/7/2014, Suwon, Korea)
Cheung Ka-long,
Cheung Siu-lun,
Nicholas Edward Choi,
Yeung Chi-ka
Men's Foil, Team
3rd/14
Lam Hin-chung
Men's Sabre
3rd/49
Chu Ka-mong,
Kong Man-wai,
Lin Yik-hei,
Yeung Chui-ling
Women's Epee, Team
3rd/10
Cheng Hiu-lam,
Kimberley Vanessa Cheung,
Lin Po-heung,
Liu Yan-wai
Women's Foil, Team
3rd/11
Au Sin-ying,
Chang Ngai-hing,
Ho Siu-in,
Lam Hin-wai
Women's Sabre, Team
3rd/11
Gymnastics
Rhythmic Gymnastics National Youth
Championships
Yu Sze-ching
Girls' All Around (Group B)
1st/47
(23/7/2014, Zhejiang, China)
Cheung Ching-nok
Girls' All Around (Group B)
2nd/47
Cheng Lai-chun
Girls' All Around (Group A)
3rd/31
Ko Shuk-ping,
Yan Shun-mei,
Yau Tsz-ching,
Hilda Yeung,
Yu Sze-nam
Group's All Around (Group B)
3rd/9
Squash
Dutch Junior Open - European Junior
Circuit, Super Series
Yuen Tsun-hei
Boys Under 19
1st/61
(10/7/2014, Amsterdam, Netherlands)
Lui Hiu-lam
Girls Under 15
1st/32
Table Tennis
Korea Junior & Cadet Open - ITTF Premium
Junior Circuit
(23/7/2014, Yeosu, Korea)
Lam Yee-lok,
Zhu Chengzhu*
Junior Girls' Doubles
2nd/14
Lam Yee-lok,
Liu Qi,
Mak Tze-wing
Junior Girls' Team
3rd/10
*Non-HKSI Scholarship Athlete
---
Elite athletes set eyes on Asian Games
Hong Kong sent a strong delegation of 472 athletes to compete at the 2014 Incheon Asian Games, commencing 19 September in Korea.
In response to the public interest in Hong Kong athletes' training and preparation for the Games, a series of ˇ§Meet the Mediaˇ¨ sessions were organised by the HKSI and/or respective National Sports Associations for a number of Tier A sports, such as karatedo, badminton, rowing, triathlon, athletics, fencing, wushu, windsurfing, gymnastics, table tennis, tenpin bowling, squash and rugby, as well as the HKSI's sports professionals, at various HKSI training venues from late July to mid September.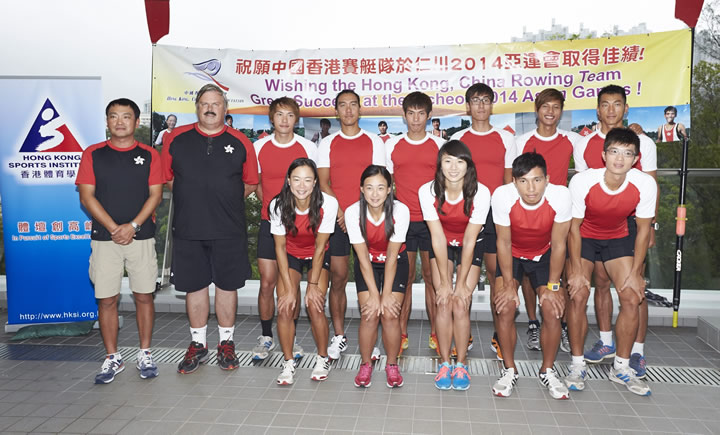 Rowing team
Triathlon team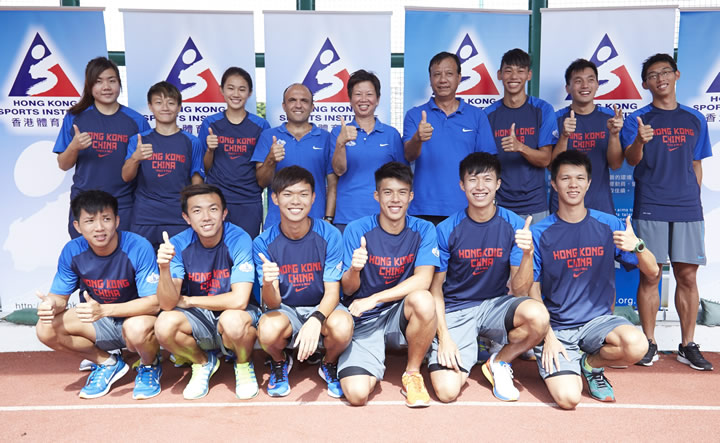 Athletics team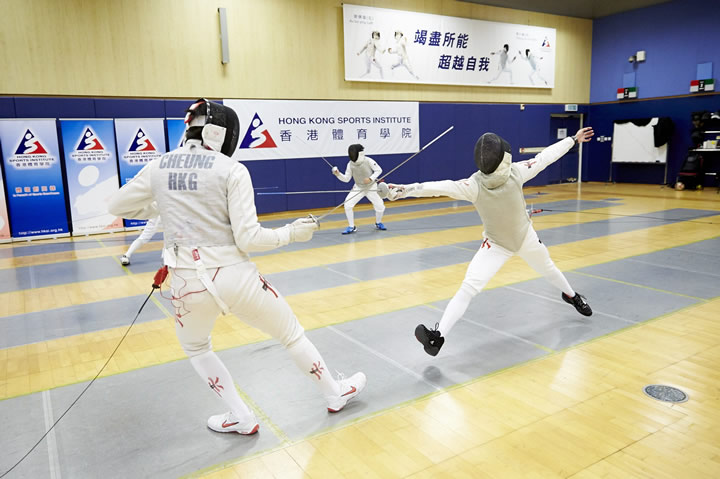 Fencing team
The HKSI is proud to see the athletes and coaches demonstrate full commitment and efforts to achieve their best as they strive to achieve glory for Hong Kong, and would like to wish them all the best at the Games.
---
HKSI strengthens links with community and partners
In August, the HKSI continued its efforts to strengthen links with the community and its partners.
On 15 August, a three-person delegation from the University of Hong Kong, led by its Executive Vice-President (Administration and Finance) Dr Steven J Cannon, visited the HKSI. The visitors were led on a tour of the various training facilities on site to understand the elite sports development in Hong Kong.
On 22 August, the HKSI received a visit from The Hong Kong Jockey Club (HKJC). The three-member delegation, led by Ms Rhoda Chan, Head of Charities Projects of the HKJC, conducted a site visit of the new HKJC-funded multi-purpose elite training and coaching centre to understand the progress of construction, followed by a tour of the elite training facilities on the HKSI premises.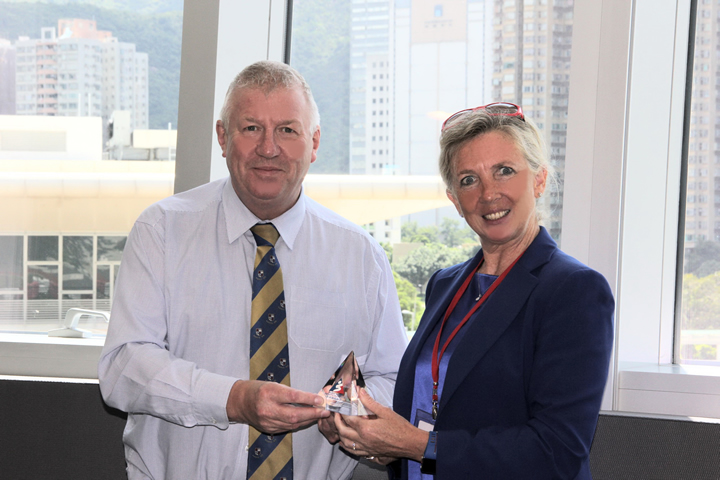 From left: Dr Steven J Cannon (Executive Vice-President (Administration and Finance), The University of Hong Kong), Dr Trisha Leahy BBS (Chief Executive, HKSI)
From left: Dr Trisha Leahy BBS (Chief Executive, HKSI), Ms Rhoda Chan (Head of Charities Projects, HKJC), Ms Donna Tang (Charities Manager, HKJC), Ms Macy Chui (Charities Manager, HKJC), Dr Raymond So (Director, Elite Training Science & Technology, HKSI)
Site visit of the new HKJC-funded building
---
New titles at the Sports Information Centre (SIC)
Sports nutrition for endurance athletes (Third edition)
(Call no.: TX361 .A8R95 2012)
This book serves as an indispensable tool for all your nutritional concern. The information is presented in an incredibly clear and adaptable way. Athletes of all levels will find it easier to fine tune their diet, maintain their energy levels and maximise their ability to perform in endurance events. An optimal sports nutrition plan is the best way to make your participation in sport more effective and rewarding. This useful reference is particularly best for triathletes, cyclists, runners and swimmers.
International sport management
(Call no.: GV713 .I585 2012)
This book is the first comprehensive textbook devoted to the organisation, governance, business activities, and cross-cultural context of modern sport on an international level. Also it serves as an invaluable guide for readers as they build careers that need an international understanding in sport management. With this approach, readers will learn how to combine business practices with knowledge in international sport to shape their current and future careers. And this guide is useful for athletes who are finding their career path.