Hong Kong mixed doubles badminton pair Chau Hoi-wah and Lee Chun-hei enjoyed a landmark win at The Star Australian Badminton Open, their first ever win in the Superseries¡K
More

---

Leo Au¡¦s Asian Championships win highlights superb month for squash
May was an impressive month for the Au siblings, with 2 gold medals and 1 silver between them for brother and sister Leo Chun-ming and Annie Wing-chi¡K
More

Golden moment for Poon in 1st Asian Youth Athletics Championships
Hong Kong¡¦s young athletes enjoyed a successful trip to Doha, Qatar, for the inaugural Asian Youth Athletics Championships, winning 1 gold and 2 silver¡K
More

Tsoi smashes world record at Indoor Rowing Champs
Hong Kong para-rower Tsoi Ka-ming starred at the 4th INAS World Indoor Rowing Championships, breaking the world record to win the men¡¦s individual 500m event...
More
II. Sporting Achievements (1 - 31 May)
---
Badminton: Breakthrough Superseries win for Chau and Lee at Australian Open

Hong Kong mixed doubles badminton pair Chau Hoi-wah and Lee Chun-hei enjoyed a landmark win at The Star Australian Badminton Open held from 26 to 31 May, their first ever win in the elite 12-event Superseries.

The unseeded pair became the first Hong Kong mixed doubles team ever to win a Superseries title when they beat fourth seeds Liu Cheng and Bao Yixin in the Sydney final, 21-19, 19-21, 21-15.

The US$750,000 tournament is one of the most lucrative on the tour, and with the added incentive of qualifying points for the Rio Olympics at stake, the top-10 teams were all taking part, making Chau and Lee's feat all the more impressive.

The pair had it tough from beginning to end, having to see off the eighth, third and second seeds on their way to the final.

"I have to thank my parents, my coach and partner. They make it possible for me to achieve what I did today. I wish I could explain to you how amazing our teamwork transformed to rise to the challenge and the joy of playing all these special players this week", said Chau, after their first win over the mainlanders in four meetings.

After beating a Russian pair in the opening round in two games, Chau and Lee had to slog it out over three games in all of their remaining matches, beating teams from Indonesia, Denmark and another Indonesian pair, the highly-rated Tontowi Ahmad and Liliyana Natsir.

He Yiming, Head Badminton Coach at the Hong Kong Sports Institute (HKSI), said he hoped the win would propel the pair forward in the build-up to Rio.

"It is important not only because they have now become the first mixed doubles gold medal winner of a Superseries from Hong Kong, but also the confidence they have gained by toppling so many top opponents on their way to victory," he said.

"The Rio 2016 Games qualifications just began and they can now believe they can also make it at the top level. Hopefully they can start from here and make sufficient progress to challenge others at next year's Olympic Games. But one thing is certain, their world ranking will receive a big boost following the victory and this is pivotal for the rest of the year.

With the win, they moved from 13th to 9th in the world rankings. Their best ever ranking was 6th last year, but they have had to fight their way back from a low of 19 at the start of 2015.

The top 16 in May 2016 qualify for the Rio Olympics, with a maximum of two teams from each National Olympic Committee. With China and Indonesia likely to have at least two pairs each in the top 16, Chau and Lee have already given themselves a good chance of reaching Rio, if they maintain their impressive form over the coming months.

Athlete
Event
Medal
Chau Hoi-wah,
Lee Chun-hei
Mixed Doubles
Gold

3rd and 4th from left: Lee Chun-hei, Chau Hoi-wah
---
Leo Au¡¦s Asian Championships win highlights superb month for squash

May was an impressive month for the Au siblings, with 2 gold medals and 1 silver between them for brother and sister Leo Chun-ming and Annie Wing-chi.

In an eight-medal haul for squash at five events during the month, Leo won the top title at the 18th Asian Individual Championships, while Annie was runner-up against the almost-unbeatable Nicol David of Malaysia.

Leo, fourth seed, stunned the home crowd in Kuwait by outplaying local hero and Incheon Asian Games gold medallist Abdullah Al-Mezayen in three games (11-7, 11-9, 13-11) in the final.

"I don't know what to say," said Leo. "I am so happy. I didn't imagine I could win this tournament. I performed really well in this tournament. This time I concentrated more than I normally do."

He was the first home-grown player ever to win the top regional event. Annie, winner of the tournament in 2013, said she "jumped for joy" watching him win.

"Last time when I won the title, he was asking when it would be his turn," said Annie. "So it was unbelievable that he made it come true. We were still thinking if it was real at dinner [after the finals]. He has improved a lot and was very focused in his matches."

And at the 4th HKFC Invitational PSA 25 Tournament a few weeks later, Annie took the top prize, while Lee Ho-yin ensured a home double for the hosts.

Meanwhile, Chu Man-yee won two legs of the Malaysian Squash Tour in Penang and Kuala Lumpur, and Liu Tsz-ling won the South Australian Open in Adelaide.

Athlete
Event
Medal
18th Asian Individual Championships / 1 - 5 May / Kuwait
Au Chun-ming
Men¡¦s Singles
Gold
Au Wing-chi
Women¡¦s Singles
Silver
South Australian Open / 13 - 17 May / Adelaide, Australia
Liu Tsz-ling
Women¡¦s Singles
Gold
Malaysian Squash Tour / 19 - 29 May / Malaysia
Chu Man-yee
Women¡¦s Singles (Leg 3 - Penang, Malaysia)
Gold
Chu Man-yee
Women¡¦s Singles (Leg 4 - Kuala Lumpur, Malaysia)
Gold
Lee Ka-yi
Women¡¦s Singles (Leg 4 - Kuala Lumpur, Malaysia)
Bronze
4th HKFC Invitational PSA 25 Tournament / 25 - 26 May / Hong Kong
Lee Ho-yin
Men¡¦s Singles
Gold
Au Wing-chi
Women¡¦s Singles
Gold

Left: Au Wing-chi
Left: Au Chun-ming
From left : Au Wing-chi, Leung Kan-fai (Squash Coach, HKSI), Au Chun-ming
---
Golden moment for Poon in 1st Asian Youth Athletics Championships

Hong Kong's young athletes enjoyed a successful trip to Doha, Qatar, for the inaugural Asian Youth Athletics Championships held from 8 to 11 May, winning 1 gold and 2 silver.

In the women's 100m race, Poon Hang-wai clocked a PB 12.27 seconds to claim the gold, ahead of Lebanon's Lea Paul Obeid (12.32).

"Winning the 100m gold is a great feeling," she said. "To do so with a personal best is even sweeter as I didn't expect to win, my main hope [was] the 200m."

Teammates Lam Yan-tung and Wong Yuen-nam added to the medal haul with seconds in the women's 100m hurdles and women's high jump respectively.

| | | |
| --- | --- | --- |
| Athlete | Event | Medal |
| Poon Hang-wai | Women¡¦s 100m | Gold |
| Lam Yan-tung | Women¡¦s 100m Hurdles | Silver |
| Wong Yuen-nam | Women¡¦s High Jump | Silver |

Left: Poon Hang-wai
Back row, 3rd from left: Lam Yan-tung
Wong Yuen-nam
(Photos provided by the Hong Kong Amateur Athletic Association)
---
Tsoi smashes world record at Indoor Rowing Champs

Hong Kong para-rower Tsoi Ka-ming starred at the 4th INAS World Indoor Rowing Championships held from 14 to 17 May in Gavirate, Italy, setting a new world record of 1 minute 29.2 seconds, to win the men¡¦s individual 500m event and earning silver in the 1000m.

| | | |
| --- | --- | --- |
| Athlete | Event | Medal |
| Tsoi Ka-ming | Men¡¦s Individual 500m | Gold |
| Tsoi Ka-ming | Men¡¦s Individual 1000m | Silver |

Right: Tsoi Ka-ming
(Photo provided by the Hong Kong Sports Association for the Mentally Handicapped)
---
Billiard sports athlete Fung Kwok-wai wins 1 bronze medal at the
ACBS Asian 6-Red Snooker and Teams Championships

Billiard sports athlete Fung Kwok-wai won a bronze medal in the 6-Red event at the ACBS Asian 6-Red Snooker and Teams Championships held on 23 - 31 May in Kish Island, Iran.

Fung Kwok-wai
---
Table tennis team wins 4 medals at the
SET Thailand Junior & Cadet Open - ITTF Golden Series Junior Circuit

The Hong Kong table tennis team won 2 gold, 1 silver and 1 bronze medal at the SET Thailand Junior & Cadet Open - ITTF Golden Series Junior Circuit held on 13 - 17 May in Bangkok, Thailand.

From left: Leung Ka-wan, Ng Ka-man, Wong Chin-yau, Lee Ka-yee,
Wong Hon Lam, Tsang Tsz-tsun, Lau Chun Kit, Chan Yee-shun
(Photo provided by the Hong Kong Table Tennis Association)

Athlete
Event
Medal
Chan Yee-shun, Lau Chun Kit,
Tsang Tsz-tsun, Wong Hon Lam
Cadet Boys¡¦ Team
Gold
Lee Ka-yee, Leung Ka-wan,
Ng Ka-man, Wong Chin-yau
Cadet Girls¡¦ Team
Gold
Lee Ka-yee
Cadet Girls¡¦ Singles
Silver
Chan Yee-shun
Cadet Boys¡¦ Singles
Bronze
---
Table tennis team wins 1 gold medal at the
GAC Group ITTF World Tour, Philippines Open - Challenge Series

The Hong Kong table tennis team won a gold medal at the GAC Group ITTF World Tour, Philippines Open - Challenge Series held on
27 - 31 May in Subic Bay, Philippines.

Athlete
Event
Medal
Lee Ho-ching,
Zhu Chengzhu
Women¡¦s Doubles
Gold

From left: Lee Ho-ching, Zhu Chengzhu
(Photo provided by the Hong Kong Table Tennis Association)
---
Table tennis athlete Wong Ka-man (Hong Kong Sports Association
for the Mentally Handicapped) wins 1 bronze medal at the Slovakia Open

Table tennis athlete Wong Ka-man (Hong Kong Sports Association for the Mentally Handicapped) won a bronze medal in the Women¡¦s Singles (Class 11) event at the Slovakia Open held on 12 - 17 May in Bratislava, Slovakia.

2nd from right: Wong Ka-man
(Photo provided by the Hong Kong Sports Association for the Mentally Handicapped)
---
Tenpin bowling athlete Yuen Wing-shan (Hong Kong Paralympic Committee & Sports
Association for the Physically Disabled) wins 1 gold medal at the 5th IBSA World Games

Tenpin bowling athlete Yuen Wing-shan (Hong Kong Paralympic Committee & Sports Association for the Physically Disabled) won a gold medal in the Women¡¦s TPB3 All Events at the 5th IBSA World Games held on 10 - 17 May in Seoul, Korea.

Middle: Yuen Wing-shan
(Photo provided by the Hong Kong Paralympic Committee & Sports Association for the Physically Disabled)
---
Wheelchair fencing team (Hong Kong Paralympic Committee & Sports Association
for the Physically Disabled) wins 3 medals at the
IWAS Wheelchair Fencing World Cup - Canada

The Hong Kong wheelchair fencing team (Hong Kong Paralympic Committee & Sports Association for the Physically Disabled) won 1 silver and 2 bronze medals at the IWAS Wheelchair Fencing World Cup - Canada held on 1 - 3 May in Montreal, Canada.

Athlete
Event
Medal
Yu Chui-yee
Women¡¦s Foil Individual (Cat. A)
Silver
Yu Chui-yee
Women¡¦s Epee Individual (Cat. A)
Bronze
Chan Wing-kin, Leung Siu-lun,
Ng Chi-fung, Yiu Chi-hong,
Men¡¦s Team Foil
Bronze

1st from left: Yu Chui-yee
From left: Leung Siu-lun, Chan Wing-kin, Ng Chi-fung, Yiu Chi-hong
(Photos provided by the Hong Kong Paralympic Committee & Sports Association for the Physically Disabled)
---
Wheelchair fencing team (Hong Kong Paralympic Committee & Sports Association
for the Physically Disabled) wins 3 medals at the
IWAS Wheelchair Fencing World Cup - Italy

The Hong Kong wheelchair fencing team (Hong Kong Paralympic Committee & Sports Association for the Physically Disabled) won 1 silver and 2 bronze medals at the IWAS Wheelchair Fencing World Cup - Italy held on 22 - 24 May in Pisa, Italy.

| | | |
| --- | --- | --- |
| Athlete | Event | Medal |
| Yu Chui-yee | Women¡¦s Foil Individual (Cat. A) | Silver |
| Cheong Meng-chai | Men's Foil Individual (Cat. A) | Bronze |
| Leung Siu-lun | Men's Foil Individual (Cat. B) | Bronze |

1st from right: Leung Siu-lun
(Photo provided by the Hong Kong Paralympic Committee & Sports Association for the Physically Disabled)
---
Elite results roundup (1 - 30 April)
Sport

Name

Event

Position / No. Of Entries

Archery (The Hong Kong Paralympic Committee & Sports Association for the Physically Disabled)
9th National Games of Disabled Persons
(17/4/2015, Sichuan, China)

Choi Yuen-lung*, Wu Tung-sang

Mixed Compound Team

1st/11
Athletics
All China Youth (Age 16-17) Athletics Championships
(9/4/2015, Chongqing, China)
Law Tin-kin, Ma Ka-ho,
Poon Chun-yin, Wong Cheuk-hei*

Men's 4 x 100m

1st/8
Badminton

OUE Singapore Open

Hu Yun

Men's Singles

2nd/44

(7/4/2015, Singapore)

Bonny China Masters

Wei Nan

Men's Singles

3rd/33

(14/4/2015, Changzhou, China)

Dong Feng Citroen Badminton Asia Championships

Chau Hoi-wah, Lee Chun-hei

Mixed Doubles

2nd/29

(21/4/2015, Wuhan, China)

SKYCITY New Zealand Badminton Open

Cheung Ngan-yi

Women's Singles

3rd/44

(28/4/2015, Auckland, New Zealand)

Billiard sports
16th Asian Under-21 Snooker & 14th Billiards Championships

Chan Ming-tung

Individual

3rd/32

(7/4/2015, Beijing, China)

Tam Yun-fung

Individual

3rd/32

WLBSA World Ladies Championship

Ng On-yee

Individual

1st/37

(18/4/2015, Leeds, England)

Ip Wan-in

Individual

3rd/37
Cycling

Princess Maha Chakri Sirindhorn's Cup Tour of Thailand

Meng Zhaojuan

General Classification

1st/53

(1/4/2015, Thailand)

Cheung King-lok

General Classification

3rd/117
Squash
14th Texas Open

Au Wing-chi

Women's Singles

3rd/28

(7/4/2015, Dallas, USA)

Table Tennis

QOROS World Table Tennis Championships

Doo Hoi-kem, Wong Chun-ting

Mixed Doubles

3rd/138

(26/4/2015, Suzhou, China)

Tennis

China Junior 6 Chengdu Grade 3, China

Li Hei-yin

Boy's Singles

3rd/32

(31/3/2015, Chengdu, China)
*Non-HKSI Scholarship Athlete
---
Lee Wai-sze awarded by Prince Jewellery & Watch and Reader¡¦s Digest
Widely praised by the community at large for her sporting spirit, world champion cyclist Lee Wai-sze was invited to attend the Prince Jewellery & Watch Elite Awards Presentation held on 14 June, where she was named winner of Sports Category. In the sixth running of the awards presentation, the organiser continued to recognise people with outstanding performance in different disciplines. The other five winners were Adam Cheng (TV Performance), Hins Cheung (Singing), Charlene Choi (Motion Picture), Joseph Koo (Arts) and Nina Lam (Charity).
Another piece of good news to the cyclist is that she has been voted the most "Trusted Sports Personality" of The Reader's Digest Trusted Brands Survey, announced on 23 June.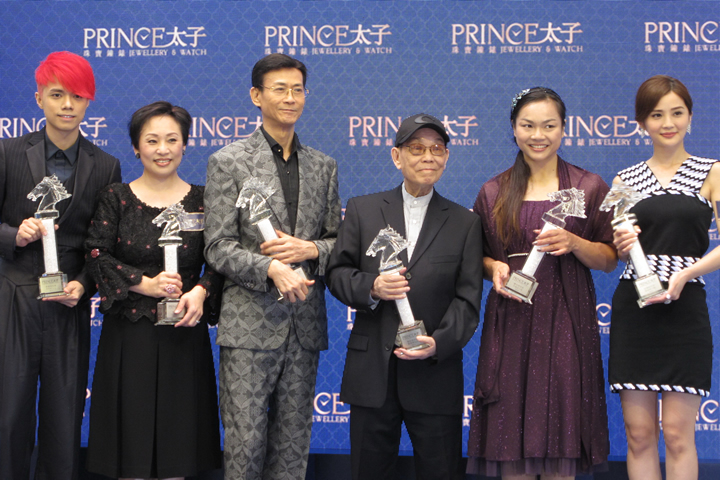 From left: Hins Cheung, Nina Lam, Adam Cheng, Joseph Koo, Lee Wai-sze, Charlene Choi
---
Lee Wai-sze shares at Hong Kong Student Sports Awards Ceremony
Cyclist Lee Wai-sze was invited to join hands with more than 20 guests to officiate at the 10th A.S. Watson Group Hong Kong Student Sports Awards Ceremony on 10 May. They presented certificates to over 900 secondary and primary schools students sports stars during the ceremony. In addition, Lee and Dr Trisha Leahy BBS, Chief Executive of the HKSI, shared their experience with more than 1,000 students and family members on local elite sports development.
From left: Mr Dominic Lai (Group Managing Director of A.S. Watson Group), Ms Chan Ah-king, Deputy Director ¡V Department of Publicity, Cultural and Sports Affairs in Liaison Office of The Central People¡¦s Government in the Hong Kong SAR), Lee Wai-sze, The Hon Eddie Ng Hak-kim SBS JP (Secretary for Education)
---
New titles at the Sports Information Centre (SIC)
Facilitated stretching (Fourth edition)
(Call No.: RA781.63 .M32 2014)
Athletes are expected to achieve significant gains in flexibility in a short period of time by using facilitated stretching techniques. This updated fourth edition showcases a variety of stretching techniques and a more in-depth discussion of facilitated stretching. The book comes with full-colour photos and illustrations, demonstrating the stretching routines and strengthening exercises. This practical reference is ideal for manual therapists, massage therapists, athletic trainers, sports physicians, coaches as well as athletes.
Physical rehabilitation of the injured athlete (Fourth edition)
(Call No.: RD97 .P49 2012
The information in this book covers a wide range of topics related to sports therapeutic rehabilitation, such as foundational concepts in rehabilitation, rehabilitation of upper extremity, spine and lower extremity, and restoration of athletic performance. As it is important to have scientific rationale for the implementation of rehabilitation concepts and exercises, this book has a large number of researches to support the scientific underpinnings for rehabilitation principles and concepts. Also, chapters have been updated to reflect the latest surgical techniques and evidence-based rehabilitation rationales. This book will serve as both a reference for clinicians and a text for students, athletes or coaches who are interested in the area of sports rehabilitation.