Tie Yana showed she can still be a force to be reckoned with if she qualifies for her fourth Olympics this summer after winning the ITTF World Tour, Hungarian Open, Major Series...
More

---

Cheung King-lok
stars at cycling"¦s
Asian Championships
Cheung King-lok was the standout star of Hong Kong"¦s cycling squad as they had a hugely successful Asian Championships"K
More

Lee and Chau
runners-up in
Malaysia
Shuttlers
Chau Hoi-wah and
Lee Chun-hei won bronze at the VICTOR Far East Malaysia Masters in Penang, Malaysia"K
More
II. Sporting Achievements
---
Tie Yana rolls back the years as she targets fourth Olympics

Tie Yana showed she can still be a force to be reckoned with if she qualifies for her fourth Olympics this summer after winning the ITTF World Tour, Hungarian Open, Major Series held on 20 - 24 January in Budapest, Hungary.

The 36-year-old veteran, seeded 15, turned the clock back with an impressive victory in Budapest, edging out the 10th seed Yang Ha-eun of South Korea in a seven-game marathon 11-7, 8-11, 8-11, 11-8, 7-11, 11-9, 11-9.

It was Tie's ninth ITTF World Tour title, but her first since 2010, coincidentally also at the Hungarian Open. It was the longest gap between titles on the tour.

"I'm so pleased to have won as this competition took a great deal out of me," said Tie, who had lost to Yang in their most recent meeting.

"Before the tournament I had not been well, so this victory gives me extra pleasure. It was a tight match, she fought and surprised me many times."

Tie's first Olympics was Athens 2004, and she hopes the Hungary win shows she still has what it takes to match the best.

"The Olympic Games is always the biggest target," she said. "No matter how many times you have been to the Olympics, you still want to go there one more time.

"This gold medal has proved I can still play at the highest level. Although my fitness cannot compare with my younger days, I have been working extremely hard on improving it, especially since the birth of my son in late 2014.

"I always want to set an example for my son that whatever I do, I will do to the best of my ability. It would be great if my son can see me on television competing at the Rio Olympics.

"I have been the number one in the squad previously but as I grow older, there will be new faces challenging my position."

It was a good tournament for Hong Kong players, with Tie's title among five ranking finishes 1 silver and 3 bronze medals for the squad.

Doo Hoi-kem at 19 representing the next generation from Tie reached the women's singles semi-finals, where Yang beat her in seven games. And Tie's singles win was also a bit of revenge over Yang, who had earlier beaten her and Jiang Hua Jun in the doubles final.

In the Under-21 events, Doo reached the semi-finals of the women's tournament and Ho Kwan-kit the men's.

The following week at the Berlin Open, there was further success for Hong Kong"¦s players. Ho and Tang Peng teamed up to reach the final of the men"¦s doubles, and got a silver medal while Lee Ho-ching reached the semis of the women"¦s singles, and Tie and Jiang reached the semis of the women"¦s doubles. Both got bronze medals.

Athlete
Event
Medal
ITTF World Tour, Hungarian Open / 20 - 24 January / Budapest, Hungary
Tie Yana
Women's Singles
Gold
Jiang Huajun, Tie Yana
Women's Doubles
Silver
Ho Kwan-kit
Men's Singles (U21)
Bronze
Doo Hoi-kem
Women's Singles (U21)
Bronze
Doo Hoi-kem
Women's Singles
Bronze
11even Sports ITTF World Junior Circuit Finals / 22 - 24 January / Indore, India
Zhu Chengzhu
Junior Girls' Singles
Gold
ITTF World Tour, German Open / 27 - 31 January / Berlin, Germany
Ho Kwan-kit, Tang Peng
Men's Doubles
Silver
Lee Ho-ching
Women's Singles
Bronze
Jiang Huajun, Tie Yana
Women's Doubles
Bronze

Tie Yana
From left: Ho Kwan-kit, Tang Peng
Zhu Chengzhu
(Photos provided by the Hong Kong Table Tennis Association)
---
Cheung King-lok stars at cycling"¦s Asian Championships

Cheung King-lok was the standout star of Hong Kong's cycling squad as it had a hugely successful Asian Championships.

The team won 15 medals, including 5 gold, with Cheung winning 3 gold and 2 silver.

Cheung starred on both the road and track events in Izu, Japan, winning the time trial and road race, then taking the individual pursuit title on the track.

He was also second in the points race and teamed up with Leung Chun-wing for second in the madison.

"I want to continue to peak at the World Championships [in London in March]," said Cheung. "I want to stand on the podium there."

Hong Kong's other golds were won by Lee Wai-sze (women's keirin) and Leung Hoi-wah (junior women's point race).

Athlete
Event
Medal
UCI Track Cycling World Cup - Series 3 / 16 - 17 January / Hong Kong
Lee Wai-sze
Women's Sprint
Silver
Lee Wai-sze
Women's Keirin
Bronze
36th Asian Cycling Championships cum 23rd Asian Junior Cycling Championships /
19 - 30 January / Tokyo (road events) Shizuoka (track events), Japan
Cheung King-lok
Elite Men's 4km Individual Pursuit
Gold
Cheung King-lok
Elite Men's Road Race
Gold
Cheung King-lok
Elite Men's Individual Time Trial
Gold
Leung Hoi-wah
Junior Women's Point Race
Gold
Lee Wai-sze
Elite Women's Keirin
Gold
Leung Chung-pak
Junior Men's Scratch
Silver
Fung Ka-hoo
Men's Individual Time Trial (U23)
Silver
Cheung King-lok
Elite Men's Point Race
Silver
Cheung King-lok, Leung Chun-wing
Elite Men's Madison
Silver
Li Yin-yin
Junior Women's Keirin
Silver
Ma Yin-yu
Junior Women's Scratch
Silver
Ma Yin-yu
Junior Women's Individual Time Trial
Silver
Lee Wai-sze
Elite Women's 500m Time Trial
Silver
Law Tsz-chun
Junior Men's Sprint
Bronze
Lee Wai-sze
Elite Women's Sprint
Bronze

Cheung King-lok
Middle: Cheung King-lok
Middle: Lee Wai-sze
Leung Hoi-wah
---
Lee and Chau runners-up in Malaysia

Shuttlers Chau Hoi-wah and Lee Chun-hei won bronze at the VICTOR Far East Malaysia Masters held on 19 - 24 January in Penang, Malaysia.

The mixed doubles pair, who won a historic World Superseries title at the Australian Open and a bronze at the Dubai Finals last year, were beaten in the semis (21-17, 21-14) by Zheng Siwei and Li Yinhui of China, who went on to win the event.

Athlete
Event
Medal
Chau Hoi-wah,
Lee Chun-hei
Mixed Doubles
Bronze

From left: Lee Chun-hei, Chau Hoi-wah (Archive photo)
---
Elite results roundup (1 - 31 December 2015)
Sport

Name

Event

Position /
No. Of
Entries
Billiard Sports
European Tour Event 5
Fu Ka-chun
Individual
1st/179
(9/12/2015, Gibraltar)
Cycling
Jelajah Malaysia
(9/12/2015, Kuala Lumpur, Malaysia)
Cheung King-lok
General Classification
3rd/109
Table tennis
World Junior Table Tennis Championships
Ho Kwan-kit, Ng Pak-nam
Junior Boys' Doubles
3rd/40
(29/11/2015, Vendee, France)
Ho Kwan-kit, Kwan Man-ho,
Lee Yat-hin, Ng Pak-nam
Junior Boys' Team
3rd/20
Ho Kwan-kit, Soo Wai-yam
Junior Mixed Doubles
3rd/87
Tennis
Qatar Asian Junior Team Cup 14/U
(23/12/2015, Doha, Qatar)
Chan Tsz-yeung, Ng Ki-lung,
Wong Sheung-yin
Boys' Team
1st/8
Tenpin bowling
ABF Tour - Saudi Arabia
Kam Siu-lun
Men's event
2nd/16
(8/12/2015, Riyadh, Saudi Arabia)
Tseng Tak-hin
Men's event
3rd/16
Wheelchair fencing (Hong Kong Paralympic Committee & Sports Association for the Physically Disabled)
IWAS Wheelchair Fencing World Cup - Sharjah
(16/12/2015, Sharjah, UAE)
Tam Chik-sum
Men's Epee Individual
(Cat. B)
3rd/29
Windsurfing
RS:One World Championships
Lee Chun-ting
RS:One - Men
1st/21
(7/12/2015, Batangas, Philippines)
Ngai Wai-yan
RS:One - Women
1st/9
Ma Kwan-ching
RS:One - Women
2nd/9
---
The HKSI hosted a New Year Luncheon on 22 February, where around 100 guests from the National Sports Associations, the Sports Federation & Olympic Committee of Hong Kong, China, the Government, network schools, as well as sponsors and partners, were invited to celebrate the Chinese New Year. During the luncheon, HKSI Chairman Mr Carlson Tong SBS JP expressed his gratitude for the concerted effort made by all the parties over the past year in promoting elite sports development in Hong Kong, and wished all Hong Kong athletes a great success in the upcoming qualifying competitions for the Rio Olympics and Paralympics.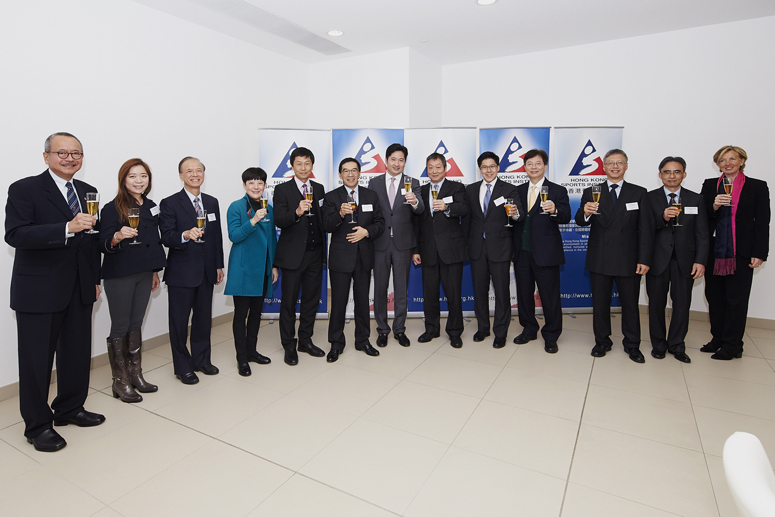 HKSI Chairman Mr Carlson Tong SBS JP (6th from left), Vice-Chairmen Mr Matthias Li (3rd from left), members of the HKSI Board (from left)
Mr Karl Kwok MH, Ms Genevieve Pong, Mrs Jenny Fung BBS JP, Mr Yeung Tak-keung JP, Mr Newman Tsang, Dr Kelvin Wong JP,
Mr Kenneth Fok, Mr Lam Cheuk-yum, Mr Raymond Fan JP, Mr Hui Yung-chung BBS JP and Chief Executive Dr Trisha Leahy BBS,
propose a toast to the guests.
---
New titles at the Sports Information Centre (SIC)
Fitness weight training (Third edition)
(Call No.: GV546 .B33 2014)
The book provides a comprehensive overview for the fitness enthusiasts. General guidelines about weight training techniques, safety issues, selection of various kinds of equipment, training at home or at a fitness facility, along with detailed descriptions of each of the exercises are covered in the first part of the book. While workout routines are featured in the second part of the book. The routines are organised into 6 "colour zones" based on different levels of difficulty and intensity. It closes with advice on designing your own fitness programmes. The full-colour guide is presented in a systematic and straightforward manner. This updated third edition is particularly useful for anyone who wants to experience the enjoyment and benefits of weight training.
Biophysical foundations of human movement (Third edition)
(Call no.: QP303 .B586 2013)
This book introduces readers to key concepts concerning the anatomical, mechanical, physiological, neural and psychological bases of human movement. It provides a very good foundation for readers to pursue further studies. This third edition includes the latest research and improved presentation to address areas of growth and change in the fields of human movement, and resources such as learning objectives and summaries in each chapter to help readers understand the content. The text is good reference for students, scientists, and practitioners in human movement, kinesiology, and sport and exercise science.