Hong Kong table tennis veteran Tang Peng ended an impressive 2014 with a bronze medal in the menˇ¦s singles at the season-ending GAC Group ITTF World Tour Grand FinalsˇK
More

---

Hong Kong youngsters crowned 2014 Asian rugby sevens champions
Hong Kong won the ARFU U20 Sevens Series title after a brave display in the final leg at Kingˇ¦s Park in Kowloon...
More

Impressive displays from the next generation of squash talent
Hong Kongˇ¦s up-and-coming squash players had a successful trip to two events on the Malay peninsula, returning with 3 gold, 4 silver and 1 bronze medalˇK
More

Windsurfing: Cheng holds on to world championship crown
Cheng Kwok-fai capped a winning 2014 by taking the menˇ¦s title at the RS:One World Championships in Bintan, IndonesiaˇK
More
II. Sporting Achievements (1 - 31 December 2014)
---
Table Tennis: Tang ends 2014 on a high with amazing bronze at showpiece finals

Hong Kong table tennis veteran Tang Peng ended an impressive 2014 with a bronze medal in the men's singles at the US$1 million season-ending GAC Group ITTF World Tour Grand Finals in Bangkok, held from 11 to 14 December 2014.

Tang was the surprise package in the men's singles, storming to the semi-finals despite being only seeded 11th of 16.

In his opening match, Tang battled past England's Paul Drinkhall, the fourth seed, in six games, eventually winning 8-11, 11-5, 9-11, 13-11, 11-8, 11-8.

And Tang upset another higher-seeded player, No.6 Vladimir Samsonov of Belarus, in five games in the quarter-finals (11-9, 11-6, 11-9, 9-11, 11-8).

Second seed Dimitrij Ovtcharov awaited in the semis, a player Tang had played six times before and only managed to beat once – eight years ago when the German was only 17.

It looked like a tough task for the 33-year-old Tang, and so it proved, Ovtcharov storming ahead straight from the first serve and winning in four straight games.

Ovtcharov went on to narrowly lose the final to top seed Jun Mizutani of Japan in a seven-game marathon.

But Tang could count himself pleased with an impressive display in the tournament, though he and Wong Chun-ting could not live up to their second-seed status in the men's doubles, going out to fourth-seed Kenta Matsudaira and Koki Niwa of Japan in the semis.

Hong Kong's women's doubles team – Lee Ho-ching and Ng Wing-nam – also reached the semi-finals.

Chan Kong-wah, Head Table Tennis Coach at the Hong Kong Sports Institute (HKSI), declared himself pleased with the performances of his charges in Bangkok, and said it was a very satisfactory end to 2014 for his team.

Ko Lai-chak, Hong Kong's men's coach, singled out Tang for praise: "Tang had a steady performance at the tournament. He did well in the doubles, and even better in the singles.

"He had a great upset against Samsonov, a famous player, and based on his performance, Tang really deserved the win."

Tang Peng

(Photo provided by the Hong Kong Table Tennis Association)
---
Hong Kong youngsters crowned 2014 Asian rugby sevens champions

Hong Kong won the ARFU U20 Sevens Series title after a brave display in the final leg at King's Park in Kowloon from 19 to 20 December 2014.

Hong Kong had a player sent off in only the second minute of the final, but managed to withstand the Korean onslaught and win 20-7 – it capped an undefeated season for Hong Kong at U20 level, and they emulated the senior side in being crowned Asian champions.

Co-captain Liam Owens said "The red card may even have helped us at the end of the day as everyone knew we had to work that much harder. We came together even more after that."

Coach Fan Shun-kei was delighted with his players. "The boys really stepped up and put in that extra effort in the final. We had some tough games all day and then to go out and perform in the final like that was incredible."

HKSI Head Rugby Coach Gareth Baber said the win bode well for the future: "To come through in a final like that showed a lot of maturity. We need to ensure that we give these players the opportunity to continue to develop and progress to the senior squad.

"The ARFU U20 Series is hugely helpful in this respect and this group of players will put pressure on the senior squad, who will have to fight to keep their position. That type of pressure from below is what ultimately improves performance."

Hong Kong Boys' Rugby Team

(Photo provided by the Hong Kong Rugby Football Union)

Athlete
Event
Medal
Chui Ho-ching, Joshua Clery,
Danial Jeff Davidson*, Calvin Tang Hunter,
Kwok Pak-nga, Richard Nichol Lewis,
Edward Liam Owens,
Alexander Donnell Post,
Matthew Samuel Martin Worley,
Rupert Philips*, Jason Jeyam*,
Tomos Howells*
ARFU U20 Sevens Series,
2nd ranking - Men's 7-a-side
Gold
Chui Ho-ching, Joshua Clery,
Danial Jeff Davidson*, Calvin Tang Hunter,
Kwok Pak-nga, Richard Nichol Lewis,
Edward Liam Owens,
Alexander Donnell Post,
Eden Hugo Stiles,
Matthew Samuel Martin Worley,
Rupert Philips*, Jason Jeyam*,
Tomos Howells*
ARFU U20 Sevens Series,
Final ranking - Menˇ¦s 7-a-side
Gold

*Non-HKSI Scholarship Athlete
---
Impressive displays from the next generation of squash talent

Hong Kong's up-and-coming squash players had a successful trip to two events on the Malay peninsula, returning from tournaments in Kuala Lumpur and Singapore with 3 gold, 4 silver and 1 bronze medal.

Yuen Tsun-hei and Lau Tsz-kwan faced each other in the boys under 19 final of the KL Junior Open and again two weeks later at the Singapore Squash Open, with Yuen winning the first showdown before Lau got revenge.

There was another all Hong Kong final in Singapore in the girls under 17, with Lui Hiu-lam beating Ho Ka-wing, while further medals were won by Choi Uen-shan (Kuala Lumpur, girls under 19) and Law Yat-long (Singapore, boys under 17).

Athlete
Event
Medal
REDtone 8th KL Junior Open Squash Championships / 2 - 8 December 2014 / Kuala Lumpur, Malaysia
Yuen Tsun-hei
Boys under 19
Gold
Lau Tsz-kwan
Boys under 19
Silver
Choi Uen-shan
Girls under 19
Silver
Old Chang Kee Singapore Squash Open / 17 - 21 December 2014 / Singapore
Lau Tsz-kwan
Boys under 19
Gold
Lui Hiu-lam
Girls under 17
Gold
Yuen Tsun-hei
Boys under 19
Silver
Ho Ka-wing
Girls under 17
Silver
Law Yat-long
Boys under 17
Bronze

Left: Lau Tsz-kwan
Left: Lui Hiu-lam
Left: Yuen Tsun-hei
Left: Ho Ka-wing
(Photos provided by the Hong Kong Squash)
---
Windsurfing: Cheng holds on to world championship crown

Cheng Kwok-fai capped a winning 2014 by taking the men's title at the RS:One World Championships in Bintan, Indonesia from 15 to 20 December, which saw the strongest RS:One fleet ever assembled.

He added the world champion crown to the gold medal he won at the Asian Games in Incheon, Korea, with an impressive display, finishing well ahead of the second-place finisher from the host nation, a 17-point margin separating them after 14 races.

Cheng Kwok-fai
---
Tenpin bowling athlete Mak Cheuk-yin wins 1 bronze medal at the ABF Tour- Saudi Arabia

Tenpin bowling athlete Mak Cheuk-yin won a bronze medal in the Men's event at the ABF Tour- Saudi Arabia held on 3 December 2014 in Riyadh, Saudi Arabia.

Left: Mak Cheuk-yin

(Photo provided by the Asian Bowling Federation)
---
Wheelchair fencing team (Hong Kong Paralympic Committee & Sports Association for the Physically Disabled) wins 2 medals at the IWAS Wheelchair Fencing Grand Prix - Hong Kong

The Hong Kong wheelchair fencing team (Hong Kong Paralympic Committee & Sports Association for the Physically Disabled) won 1 silver and 1 bronze medal at the IWAS Wheelchair Fencing Grand Prix - Hong Kong held on 17 - 21 December 2014 in Hong Kong.

| | | |
| --- | --- | --- |
| Athlete | Event | Medal |
| Tam Chik-sum | Men's Epee Individual (Cat. B) | Silver |
| Chan Yui-chong | Women's Foil Individual (Cat. B) | Bronze |

Tam Chik-sum
2nd from right: Chan Yui-chong
(Photos provided by the Hong Kong Paralympic Committee & Sports Association for the Physically Disabled)
---
Elite results roundup (1 - 30 November 2014)
Sport

Name

Event

Position / No. Of Entries

Badminton

SCG Badminton Asia Junior U17 & U15 Championships

Ng Tsz-yau, Yeung Nga-ting

Women's Doubles (U17)

3rd/22

(11/11/2014, Bangkok, Thailand.)

OUE Singapore Youth International

Cheng Sin-yan, Lam Cheuk-lam

Women's Doubles (U13)

2nd/10

(17/11/2014, Singapore)

Macau Open Badminton Grand Prix Gold

Wong Wing-ki

Men's Singles

2nd/72

(25/11/2014, Macau)

Billiard Sports

IBSF World Snooker Championships

Ng On-yee

Women's event

3rd/41

(19/11/2014, Bengalore, India)

Cycling

Track Asia Cup - Series 2
(21/11/2014, New Delhi, India)

Maximilian Gil Mitchelmore

3km Individual Pursuit, Men Junior

1st/3

Ko Siu-wai

4km Individual Pursuit, Men Elite

1st/6

Maximilian Gil Mitchelmore

1km Time Trial, Men Junior

1st/3

Law Kwun-wa

1km Time Trial, Men Elite

1st/6

Wong Wan-yiu

Points Race, Women Elite

1st/3
Burr Ho, Ko Siu-wai,
Leung Ka-yu, Mow Ching-yin

Team Pursuit, Men Elite

1st/4

Leung Wing-yee

500m Time Trial, Women Junior

2nd/4
Law Kwun-wa, Leung Ka-yu,
Mow Ching-yin

Team Sprint, Men Elite

2nd/6

Mow Ching-yin

Points Race, Men Elite

3rd/11

World Indoor Cycling Championships

Wong Chin-to*

Artistic Single Elite Men

3rd/24

(22/11/2014, Czech Republic)

Rowing

Asian Rowing Cup II

Kwok Kin-ting, Kwok Kwan-ting

Men's Lightweight Double

1st/10

(21/11/2014, Makassar, Indonesia)

Lee Ka-man, Lee Yuen-yin

Women's Lightweight Double

1st/7

Leung Hiu-sum, Tang Yuk-man

Women's Lightweight Double

2nd/7

Chan Yuk-man, Chiu Hin-chun

Men's Lightweight Double

3rd/10

Table Tennis

GAC Group ITTF World Tour, Airports of Regions Russian Open, Major Series

Tang Peng, Wong Chun-ting

Men's Doubles

1st/26

(5/11/2014, Ekaterinburg, Russia)

GAC Group ITTF World Tour, Swedish Open,
Major Series

Ho Kwan-kit

Men's Single (U21)

3rd/77

(12/11/2014, Stockholm, Sweden)

Wisdom World Junior Table Tennis Championships
(30/11/2014, Shanghai, China)
Doo Hoi-kem, Lam Yee-lok,
Liu Qi, Soo Wai-yam

Junior Girls' Team

3rd/20

Wushu

1st World Taijiquan Championships

Yeung Chung-hei

Men's 39 Forms Taijijian

1st/13

(30/10/2014, Chengdu, China)

Zhuang Jiahong

Men's Optional Taijijian

1st/11

Hui Tak-yan

Men's Chen Style Taijijian

2nd/13

Hui Tak-yan

Men's 36 Forms Taijiquan

2nd/13

Zhuang Jiahong

Men's Optional Taijiquan

2nd/11

Yeung Chung-hei

Men's Yang Style Taijiquan

2nd/13

Mok Uen-ying

Women's 36 Forms Taijiquan

2nd/12

Tang Siu-kong

Men's Yang Style Taijijian

3rd/12
*Non-HKSI Scholarship Athlete
---
22nd Elite Coaches Seminar (Hong Kong)
The 22nd Elite Coaches Seminar, jointly organized by the Hong Kong Coaching Committee and the All-China Sports Federation will be held on 13-14 March 2015 at the Hong Kong Sports Institute. The Seminar comprises two parts: Pre-Seminar Workshop will be held on 13th March with the theme "Biofeedback in sport psychology: theory and practice"; Elite Coaches Seminar will be held on 14th March with the theme "Sports psychology in elite training". This will be a great opportunity for coaches to share the latest knowledge in the area. We cordially invite you to join us. For details and registration, please visit: http://hkcoaching.com/hk/news.asp
---
Asian Games medallists share experience at Rotary Club luncheon
Following their medal success at the 2014 Asian Games, cyclist Chan Chun-hing, gymnast Shek Wai-hung and windsurfer Cheng Kwok-fai were invited to attend a luncheon held by Rotary Club of Admiralty on 10 December 2014. During the luncheon, they shared their own experiences in sports and exchanged views with the professionals, encouraging them to strive for their goals and stay motivated even in challenging times.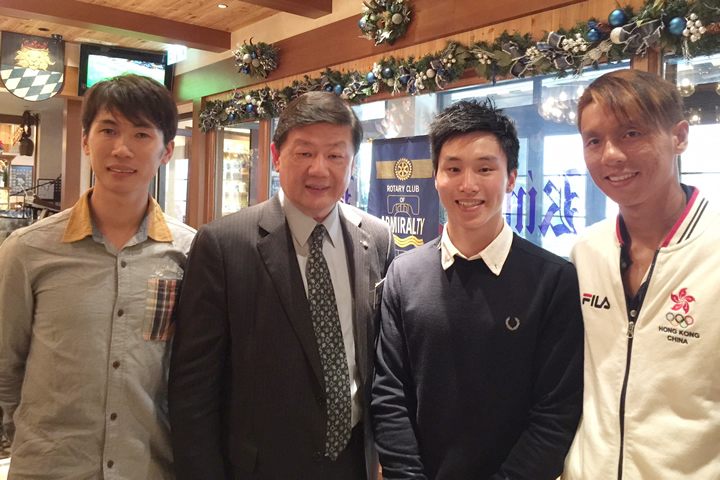 From left: Chan Chun-hing, Mr Herman Hu Shao-ming BBS JP (Charter President, Rotary Club of Admiralty), Shek Wai-hung, Cheng Kwok-fai
---
Lee Ka-wai supports ˇ§Letˇ¦s Exercise @ H.A.N.D.Sˇ¨
With his positive and healthy image, karatedo athlete Lee Ka-wai was invited as a FOODSPORT ambassador. He joined other guests to officiate at the "Let's Exercise @ H.A.N.D.S" launch ceremony held at a shopping mall on 4 December 2014. The activity encouraged people to do more exercise and the accumulated calories burned by its participants would be converted into an equivalent amount of food to be donated to Food Angel to help the needy.
From left: Lee Ka-wai, Peionie Kong (Director (Leasing & Marketing), The Link), Andy Cheung (Chief Financial Officer, The Link), Caribbean Chan (Chief Executive, Food Angel), Healthy Wong (Founder, FOODSPORT)
---
New titles at the Sports Information Centre (SIC)
Nancy Clarkˇ¦s sports nutrition guidebook (Fifth edition)
(Call no.: TX361.A8 C54 2014)
The book adopts a straightforward and balanced approach to make healthy meal plans. The author, a leading sports nutritionist, explores how we can get maximum benefit from the foods we choose. Practical advices on how to boost our energy, reduce stress, manage weight, refuel for optimal recovery, and ultimately improve our athletic performance are provided. Readers are expected to gain confidence, speed, strength, stamina as well as improved well-being. This best-selling nutrition guide is ideal for both casual exerciser and competitive athlete.
Risk management in sport : issues and strategies
(Call no.: GV 346 .R55 2012)
The book covers a range of risk management issues and strategies to deal with them. Its chapters are contributed by over 30 experienced experts in their field, relating to tort liability, medical, event, and facility issues. In the latest edition, the risk management strategies have been updated. This is a very useful resource for sports administrators and those associated with sports.