Hong Kong"¦s young fencers had a successful trip to Saudi Arabia and Bahrain for the Asian Junior & Cadet Fencing Championships, returning home with 13 medalss"K
More

---

Chan Ming-tai leaps to bronze at Asian Athletics Indoors
Chan Ming-tai won Hong Kong"¦s only medal at the 7th Asian Indoor Athletics Championships, taking home bronze in the long jump"K
More

Table tennis juniors shine in Europe
Hong Kong"¦s young table tennis prospects impressed at two events in Europe, winning 6 golds at each of two tournaments on the ITTF Junior circuit"K
More

Productive February for HK tennis
There were impressive results for Hong Kong tennis at the start and end of the month...
More
II. Sporting Achievements (1 - 29 February)
---
Boost for Cheung Ka-long as HK fencers win 13 medals

Hong Kong's young fencers had a successful trip to Saudi Arabia and Bahrain for the Asian Junior & Cadet Fencing Championships held on 20 - 29 February, returning home with 13 medals (4 gold, 4 silver, 5 bronze).

Cheung Ka-long's performance in the men's foil (junior) was the highlight, as he beat Singapore's Kevin Chan in the final for Hong Kong's only individual gold medal.

Cheung also helped ensure the foil team went home as winners, while there were also team golds in the cadet sabre and cadet foil categories. He said the result was a timely confidence boost as he tries to secure a place at the Olympics.

Cheung revealed that his coach had tried to amp up the pressure as the chase for Rio heats up. "The most difficult thing is my coach told me that 'You need to pretend this competition is the Olympic qualification,' so that made me feel nervous. This gold medal makes me feel better now and was a big confidence boost for me, for the Olympic qualification and for the future also." he said.

"From now on I'll be training hard, that will be the best way [to make it to the Olympics].

Other individual medals included Matthew Mak's silver in the men's cadet sabre, and bronzes for Areta Lee (women's junior foil), Chang Ngai-hing (women's junior sabre), Lee Chak-fung (men's cadet sabre) and Ng Lok-wang (men's cadet foil). Apart from Cheung, men's sabre team (cadet) and men's foil team (junior and cadet) also won a gold medal for Hong Kong.

Geza Marffy, Acting Head Coach of the fencing team at the HKSI, was delighted with his team's performance.

"I am very happy and proud of the Cadet and Junior Fencing Team's praiseworthy performance," he said. "I would like to highlight the diversity of the medals between the three weapons (Epee, Foil and Sabre).

"My expectation was 10-14 medals, taking into consideration the often-changing level of the different age groups that makes the results unpredictable particularly in the cadet events.

"[So] 13 medals including 4 gold, 4 silver and 5 bronze medals is amazing. Those junior athletes who had our expectation for good results performed well, just like those cadet athletes who had our hope."

"Cheung Ka-long is an extremely talented young athlete as he has proved multiple times already," he said. "After Ka-long's beautiful bronze medal from the 2015 Asian Championship his present victory wasn't a surprise. He is self-confident and ambitious, unquestionably the best of his age group.

"His next major task is the qualification for the Rio Olympics. Although he had performed very well in past World Cups and Grand Prix competitions he is not able to qualify through the F.I.E. (International Fencing Federation) ranking so he must compete and win in the Zone Qualification (Wuxi, China) competition in April. Ka-long has a great chance to qualify."

| | | |
| --- | --- | --- |
| Athlete | Event | Medal |
| Chiu Man-to, Lee Yat-long, Ng Lok-wang, Yung Ho-wai | Men's Foil, Team (Cadet) | Gold |
| Chan Long-hei, Ho Wai-lok, Lee Chak-fung, Matthew Mak | Men's Sabre, Team (Cadet) | Gold |
| Cheung Ka-long | Men's Foil (Junior) | Gold |
| Cheung Ka-long, Choi Chun-yin, O Chun-yee,Sin Kwan-kit | Men's Foil, Team (Junior) | Gold |
| Matthew Mak | Men's Sabre (Cadet) | Silver |
| Cheung Hiu-ching, Hsieh Sin-yan, Wong Man-shan, Charmaine Kate Yu | Women's Epee, Team (Cadet) | Silver |
| Ho Sze-hou, Mak Lok-man, Ng Ho-tin, Wong Tsz-ho | Men's Epee, Team (Junior) | Silver |
| Chan Cheuk-him, Chan Kwong-kiu, Matthew Mak, Shum Lai-tai | Men's Sabre, Team (Junior) | Silver |
| Ng Lok-wang | Men's Foil (Cadet) | Bronze |
| Lee Chak-fung | Men's Sabre (Cadet) | Bronze |
| Lily Chow, Keung Nok-kan, Kuan Yu-ching, Areta Lee | Women's Foil, Team (Cadet) | Bronze |
| Areta Lee | Women's Foil (Junior) | Bronze |
| Chang Ngai-hing | Women's Sabre (Junior) | Bronze |

From left: Sandor Neuhold (Assistant Fencing Coach, HKSI),
Ho Wai-lok, Chan Long-hei, Matthew Mak, Lee Chak-fung,
Shum Lai-tai, Chan Kwong-kiu, Chan Cheuk-him,
Zheng Kang-zhao (Team Manager)
From left: Zhang Han (Assistant Fencing Coach, HKSI),
Lee Yat-long, Ng Lok-wang, Chiu Man-to, Yung Ho-wai,
Wong Kam-kau (Team Manager)
From left: Zhang Han (Assistant Fencing Coach, HKSI), Lily Chow,
Kuan Yu-ching, Areta Lee, Keung Nok-kan,
Wong Kam-kau (Team Manager)
From left: Wong Man-shan, Hsieh Sin-yan,Charmaine Kate Yu,
Cheung Hiu-ching
Hong Kong fencing team
---
Chan Ming-tai leaps to bronze at Asian Athletics Indoors

Chan Ming-tai won Hong Kong's only medal at the 7th Asian Indoor Athletics Championships held on 19 - 21 February in Doha, Qatar, taking home bronze in the long jump.

Chan was nowhere near contention after his first five jumps, but pulled it out of the bag with a remarkable final effort of 7.85 metres, not far off his own Hong Kong record (7.89).

Hong Kong's next best performance at the championships in Qatar was Yeung Man-wai, sixth in the women's high jump, while Chan Ka-chun got a new personal best of indoor game in the men's 400m semi-final (48.89).

Chan Ming-tai
(Photo provided by the Hong Kong Amateur Athletic Association)
---
Table tennis juniors shine in Europe

Hong Kong's young table tennis prospects impressed at two events in Europe, winning 6 golds at each of two tournaments on the ITTF Junior circuit.

First up was Metz, France, where there were golds in the junior girls' doubles (Liu Qi and Mak Tze-wing), and the cadet girls' team and doubles (both won by Lee Ka-yee and Wong Chin-yau). Hong Kong also took a silver and 2 bronzes.

The following week, the team was in Orebro, Sweden, and Lee's good form continued with gold in the cadet singles and silver with Wong in the doubles. Another silver and 3 bronzes completed the team's haul.

Athlete
Event
Medal
French Junior & Cadet Open - ITTF Premium Junior Circuit / 17 - 21 February / Metz, France
Lee Ka-yee, Wong Chin-yau
Cadet Girls' Doubles
Gold
Lee Ka-yee, Wong Chin-yau
Cadet Girls' Team
Gold
Liu Qi, Mak Tze-wing
Junior Girls' Doubles
Gold
Leung Ka-wan, Liu Qi, Mak Tze-wing
Junior Girls' Team
Silver
Lee Ka-yee
Cadet Girls' Singles
Bronze
Wong Chin-yau
Cadet Girls' Singles
Bronze
Swedish Junior & Cadet Open - ITTF Junior Circuit / 24 - 28 February / Orebro, Sweden.
Lee Ka-yee
Cadet Girls' Singles
Gold
Poon Yat
Mini Cadet Girls' Singles
Silver
Lee Ka-yee, Wong Chin-yau
Junior Girls' Doubles
Silver
Lau Chun-kit
Cadet Boys' Singles
Bronze
Chau Wing-sze
Cadet Girls' Singles
Bronze
Liu Qi, Mak Tze-wing
Junior Girls' Doubles
Bronze


From left: Wong Chin-yau, Lee Ka-yee, Liu Qi, Mak Tze-wing
(Photo provided by the Hong Kong Table Tennis Association)
From left: Liu Qi, Mak Tze-wing
(Photo provided by the Hong Kong Table Tennis Association)
---
Productive February for HK tennis

There were impressive results for Hong Kong tennis at the start and end of the month.

First, Sou Ming-chun and Wong Hong-kit teamed up to win the boys' doubles at the New Zealand ITF Summer Championships in Auckland, with Sou also reaching the semis of the singles.

And at the end of the month, in Bangkok, Thailand, Wong teamed up with Anthony Jackie Tang to win another medal in the boys doubles, reaching the final of the LTAT ITF Junior (Grade 1).

Athlete
Event
Medal
NZ ITF Summer Championships (Grade 3) / 1 - 6 February / Auckland, New Zealand
Sou Ming-chun, Wong Hong-kit
Boys' Doubles
Gold
Sou Ming-chun
Boys' Singles
Bronze
LTAT ITF Junior (Grade 1) / 29 February - 5 March / Bangkok, Thailand.
Anthony Jackie Tang, Wong Hong-kit
Boys' Doubles
Silver

From left: Sou Ming-chun, Wong Hong-kit
From left: Wong Hong-kit, Anthony Jackie Tang
---
Badminton team wins 2 medals at the Princess Sirivannavari Thailand Masters

The Hong Kong badminton team won 1 silver and 1 bronze medal at the Princess Sirivannavari Thailand Masters held on 8 - 13 February in Bangkok, Thailand.

Athlete
Event
Medal
Hu Yun
Men's Singlest
Silver
Chau Hoi-wah,
Lee Chun-hei
Mixed Doubles
Bronze
---
Squash team wins 2 medals at the 3rd Bahria Town International Women's Squash Championship

The Hong Kong squash team won 1 gold and 1 bronze medal at the 3rd Bahria Town International Women's Squash Championship held on 25 - 28 February in Islamabad, Pakistan.

| | | |
| --- | --- | --- |
| Athlete | Event | Medal |
| Liu Tsz-ling | Women's Singles | Gold |
| Tong Tsz-wing | Women's Singles | Bronze |

Liu Tsz-ling
(Photo provided by the Hong Kong Squash)
---
Wheelchair fencing athlete Yu Chui-yee (Hong Kong Paralympic Committee & Sports Association for the Physically Disabled)
wins 1 bronze medal at the IWAS Wheelchair Fencing World Cup - Hungary
Wheelchair fencing athlete Yu Chui-yee (Hong Kong Paralympic Committee & Sports Association for the Physically Disabled) won a bronze medal in the Women's Foil (Cat. A) event at the IWAS Wheelchair Fencing World Cup - Hungary held on 10 - 14 February in Eger, Hungary.
---
Elite results roundup (1 - 31 January)
Sport

Name

Event

Position /
No. Of
Entries
Badminton
VICTOR Far East MalaysiaMasters
(19/1/2016,Penang, Malaysia)
Chau Hoi-wah,
Lee Chun-hei
Mixed Doubles
3rd/44
Cycling
UCI Track Cycling World Cup -Series 3
Lee Wai-sze
Women's Sprint
2nd/32
(15/1/2016,Hong Kong)
Lee Wai-sze
Women's Keirin
3rd/25
36th Asian Cycling Championships cum
23rd Asian Junior Cycling Championships
Cheung King-lok
Elite Men's 4km
Individual Pursuit
1st/12
(20/1/2016, Tokyo - roadevents / Shizuoka - track events,
Japan)
Cheung King-lok
Elite Men's Road Race
1st/50
Cheung King-lok
Elite Men's Individual TimeTrial
1st/14
Leung Hoi-wah
Junior Women's Point Race
1st/9
Lee Wai-sze
Elite Women's Keirin
1st/14
Leung Chung-pak
Junior Men's Scratch
2nd/12
Fung Ka-hoo
Men's Individual Time Trial(U23)
2nd/13
Cheung King-lok
Elite Men's Point Race
2nd/14
Cheung King-lok,
Leung Chun-wing
Elite Men's Madison
2nd/7
Li Yin-yin
Junior Women's Keirin
2nd/13
Ma Yin-yu
Junior Women's Scratch
2nd/8
Ma Yin-yu
Junior Women's Individual
TimeTrial
2nd/8
Lee Wai-sze
Elite Women's 500m Time Trial
2nd/8
Law Tsz-chun
Junior Men's Sprint
3rd/12
Lee Wai-sze
Elite Women's Sprint
3rd/12
Table tennis
ITTF World Tour, HungarianOpen
Tie Yana
Women's Singles
1st/173
(20/1/2016,Budapest, Hungary)
Jiang Huajun, Tie Yana
Women's Doubles
2nd/62
Ho Kwan-kit
Men's Singles (U21)
3rd/82
Doo Hoi-kem
Women's Singles (U21)
3rd/77
Doo Hoi-kem
Women's Singles
3rd/173
11even Sports ITTF WorldJunior Circuit Finals
Zhu Chengzhu
Junior Girls' Singles
1st/16
(22/1/2016,Indore, India)
ITTF World Tour, GermanOpen
Ho Kwan-kit, Tang Peng
Men's Doubles
2nd/51
(27/1/2016,Berlin, Germany)
Lee Ho-ching
Women's Singles
3rd/126
Jiang Huajun, Tie Yana
Women's Doubles
3rd/38
---
Sports Excellence, Volume 26 available online
The latest issue of the HKSI publication Sports Excellence was published on 31 March as a supplement to Ming Pao, bringing news of local elite sports and the work of the HKSI to the public. To view the online edition (in Chinese only), please click here.
---
The HKSI hosted a media luncheon for major electronic and print media, during which the HKSI Chairman Carlson Tong Ka-shing SBS JP and management exchanged views with media representatives on the HKSI's redevelopment and future plans. After the luncheon, the participating media representatives were led on a tour of the HKSI to keep abreast of sports science and elite training in Hong Kong.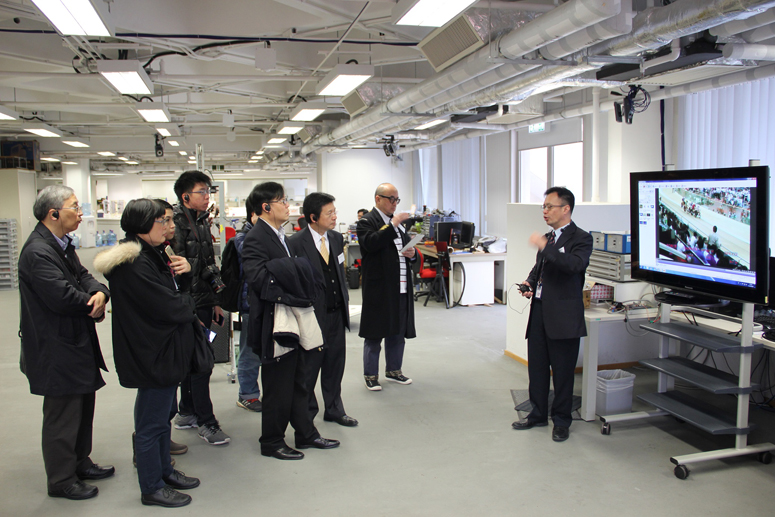 ---
HKSI takes part in TV filming for promoting sports science application
TVB's youth programme "Think Big Tour", featuring the HKSI's sports science and elite sports, was broadcasted on 19 March. The HKSI's Director of Elite Training Science & Technology, Dr Raymond So, together with other Head Coaches, coaches, sports science staff and elite athletes, participated in the filming to introduce the HKSI's role to the audience through demonstrations and try-out activities.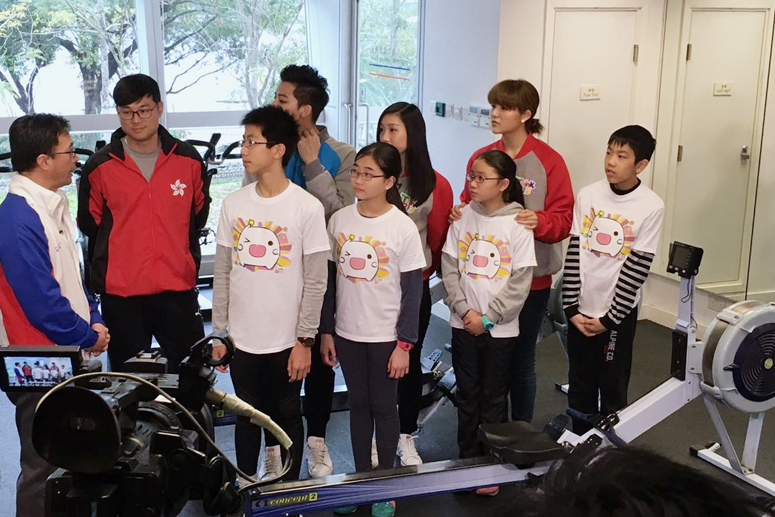 Dr Raymond So (left) introduced the training technology to the students
---
New titles at the Sports Information Centre (SIC)
Nutrition for health, fitness & sport (Tenth edition)
(Call No.: QP141 .W514 2013)
The book evaluates the latest research findings and puts forward practical nutritional recommendations for those who want to modify their diet for enhancement of health and sport performance. The authors carefully illustrate the connections between exercise, nutrition, and the optimal performance and health. The updated tenth edition will also be particularly helpful for readers to start a physical training programme. The book comes with full-colour photos and illustrations. To enhance the learning process, each chapter contains several features including "Learning Objectives", "Key Concepts", "Key Terms" and "Application Exercises". This scientifically sound and evidence-based reference is best for trainers, coaches, athletes and anyone who wants to embrace a healthy lifestyle.
Advances in motivation in sport and exercise (Third edition)
(Call no.: GV706.4 .A36 2012)
This book presents the most current information in sport and exercise motivation, explains and discusses the key motivation theories currently being studied: self-efficacy, perceived competence, achievement goal perspectives and self-determination. It provides a comprehensive explanation of motivation in physical activities and major research paradigms, as well as providing readers the directions for future research. Sport psychologists, coaches, athletes and readers who are interested in sport psychology will find this reference particularly useful.