Lee Ho-yin enjoyed an impressive run at the Motor City Open, winning a bronze medal in the men¡¦s singles after narrowly missing out on a place in the final as cramp took hold in a gruelling semi¡K
More

---

Lee ensures she doesn¡¦t end Track Cycling World Cup series without a medal
Lee Wai-sze earned qualification points on the road to the Rio Olympics with a bronze medal in the elite women¡¦s sprint event at the final leg of the UCI Track Cycling World Cup series...
More

Five medals for Hong Kong table tennis players in Budapest
The table tennis team enjoyed a hugely successful trip to the GAC Group ITTF World Tour, Hungary Open, coming back with 2 gold, 2 silver and 1 bronze medal...
More

Cheng adds Asian title to world crown
Hong Kong dominated the podium in the men¡¦s RS:One category at the SIM 34th Singapore Open RS:One Asian Windsurfing Championships, as Cheng Kwok-fai added that crown to his world title¡K
More
II. Sporting Achievements (1 - 31 January 2015)
---
Squash: Impressive Lee wins bronze medal in Detroit

Lee Ho-yin enjoyed an impressive run at the Motor City Open in Detroit, winning a bronze medal in the men's singles after narrowly missing out on a place in the final as cramp took hold in a gruelling semi of the PSA World Tour event.

Lee was beaten by his regular training partner, Steve Coppinger of South Africa, 11-9, 5-11, 8-11, 11-8, 7-11 in a match that lasted a torturous 79 minutes.

There was little to separate the two until the deciding fifth game, when Lee began cramping severely; though he fought through the excruciating pain to take a 5-3 lead, eventually he succumbed as Coppinger took eight of the next 10 points to win.

"I started cramping in the fourth around 4-2. Between the fourth and fifth I pressed my muscles to not make them tight, but at 2-1 in the fifth I started cramping again until the end," Lee said.

"It's a shame to lose this game. It's the first time I really cried on the court. I could hardly stand, move or serve. My hands and arms were cramping, as well. My whole body was cramping."

Coppinger, who had upset two players ranked above him on his way to the semis, was stunned by the bravery shown by Lee.

"What a performance [by him] and he still almost won it. I couldn't believe it," Coppinger said. "I sympathise with him hugely but at the same time I couldn't because I knew what he was still capable of. I had to stay focused on my own game because he was dangerous even in that state."

Despite a disappointing finish to the tournament, Lee could still count himself happy with a bronze medal performance at the International 70 level event, especially after he got past Amr Shabana, a former world No.1, in the first round.

"Max played very well in Detroit," said HKSI Head Squash Coach Tony Choi. "It was a very close-fought semi ... he was cramping from the fourth game. A day before in the quarters, he also staged an impressive comeback from a leg cramp to prevail over the fifth seed Omar Mosaad from Egypt in five games."

And there was further good news for Hong Kong squash in January with some impressive displays from upcoming talents in the Asian Junior Team Championships in Kuala Lumpur. The girls' team (Cheng Nga-ching, Choi Uen-shan, Ho Ka-wing and Lui Hiu-lam) came back from Malaysia with a silver medal, while the boys' team (Lau Tsz-kwan, Chris Lo Cheuk-hin, Ng Ka-yiu and Yuen Tsun-hei) won bronze.

Coach Choi was especially pleased with the girls' performance, and singled out Lui for very high praise.

"It was a very close fight for the girls, who only lost 2-1 to Malaysia, in five games in the deciding match.

"Lui Hiu-lam, aged 15, our no.3, was performing very well and very consistently throughout the tournament and won the critical deciding match for the team in the pool match against India.

"With her young age, I believe she should have lots of potential to develop and be a backbone player for the Hong Kong team."

Athlete
Event
Medal
Suburban Collection 16th Motor City Open / 22 - 27 January 2015 / Detriot, USA
Lee Ho-yin
Men¡¦s Singles
Bronze
CIMB Foundation 17th Asian Junior Team Championships / 28 January - 1 February 2015 / Kuala Lumpur, Malaysia
Cheng Nga-ching,
Choi Uen-shan,
Ho Ka-wing,
Lui Hiu-lam
Girls¡¦ Team
Silver
Lau Tsz-kwan,
Lo Cheuk-hin,
Ng Ka-yiu,
Yuen Tsun-hei
Boys¡¦ Team
Bronze

Lee Ho-yin
(Photo provided by Ta Kung Pao)
From left: Miss Emily Mak (Executive Director, Hong Kong Squash), Mr Wong Wai-hang (Assistant Squash Coach, HKSI), Mr Jovi Au (Part-time Squash Coach, HKSI), Ng Ka-yiu, Lau Tsz-kwan, Yuen Tsun-hei, Lo Cheuk-hin, Mr Duncan Chiu, (Secretary General, Asian Squash Federation), Mr David Mui MH JP (Chairman, Hong Kong Squash), Mr Cedric Tyen (Honorary Treasurer, Asian Squash Federation), Choi Uen-shan, Ho Ka-wing, Lui Hiu-lam, Cheng Nga-ching, Miss Au Yee-hang (Sport Physiotherapist, HKSI), Mr Tony Choi (Head Squash Coach, HKSI), Mr Leung Kan-fai (Squash Coach, HKSI)
From left: Mr Jovi Au (Part-time Squash Coach, HKSI), Cheng Nga-ching, Ho Ka-wing, Choi Uen-shan, Lui Hiu-lam, Mr Leung Kan-fai (Squash Coach, HKSI)
(Photos provided by the Hong Kong Squash)
---
Lee ensures she doesn¡¦t end Track Cycling World Cup series without a medal

Lee Wai-sze earned some valuable qualification points on the road to the Rio Olympics with a bronze medal at the final leg of the UCI Track Cycling World Cup series held from 16 to 18 February in Cali, Colombia.

London 2012 bronze medallist Lee beat Sandie Clair of France in the bronze medal showdown of the elite women's sprint to ensure she didn't end the series without a podium place.

Hong Kong's team had undergone some altitude training in Kunming with an eye on the Cali event and it seemed to pay off as they showed much improvement.

Right: Lee Wai-sze
---
Five medals for Hong Kong table tennis players in Budapest

The Hong Kong table tennis team enjoyed a hugely successful trip to Budapest, Hungary for the GAC Group ITTF World Tour, Hungary Open held from 28 January to 1 February 2015, coming back with 2 gold, 2 silver and 1 bronze medal.

Jiang Tianyi, the second seed, won the men's title with a spirited display against Jeong Sangeun of Korea, the third seed, fending off a recovery from Jeong to triumph 11-4, 11-9, 11-3, 10-12, 5-11, 10-12, 11-3. It was the second time Jiang has won a ITTF singles title, having had more success in doubles.

Ho Kwan-kit took gold in the men's under-21 singles, while there were silver medals for Lee Ho-ching in the women's singles and Jiang Huajun and Li Ching-wan in the women's doubles, and a bronze for Doo Hoi-kem in the women's under-21 singles.

| | | |
| --- | --- | --- |
| Athlete | Event | Medal |
| Ho Kwan-kit | Men¡¦s Singles (U21) | Gold |
| Jiang Tianyi | Men¡¦s Singles | Gold |
| Lee Ho-ching | Women¡¦s Singles | Silver |
| Jiang Huajun, Li Ching-wan | Women¡¦s Doubles | Silver |
| Doo Hoi-kem | Women¡¦s Singles (U21) | Bronze |

From left: Ho Kwan-kit, Zhao Peng (Table Tennis Coach, HKSI), Jiang Tianyi
Ho Kwan-kit
Jiang Huajun
Lee Ho-ching
(Photos provided by the Hong Kong Table Tennis Association)
---
Cheng adds Asian title to world crown

Hong Kong dominated the podium in the men's RS:One category at the SIM 34th Singapore Open RS:One Asian Windsurfing Championships held from 21 to 25 January 2015 in Singapore, as Cheng Kwok-fai added that crown to his world title and Lee Chun-ting finished third.

Cheng was simply unbeatable, winning 10 of the 12 races during the five-day event, which attracted 100 entries from 10 countries, including Hong Kong, China, Indonesia, Japan and Thailand.

| | | |
| --- | --- | --- |
| Athlete | Event | Medal |
| Cheng Kwok-fai | RS:One Men | Gold |
| Lee Chun-ting | RS:One Men | Bronze |

Cheng Kwok-fai
From left: Ngai Wai-yan, Lee Chun-ting, Cheng Kwok-fai,
Cheng Ho-yin, Ma Kwan-ching
---
Karatedo athlete Lau Mo-sheung wins 1 bronze medal at the Karate1 Premier League - Paris

Karatedo athlete Lau Mo-sheung won a bronze medal in the Senior Female Individual Kata event at the Karate1 Premier League - Paris held on 24 - 25 January 2015 in Paris, France.

Lau Mo-sheung
---
Elite results roundup (1 - 31 December 2014)
Sport

Name

Event

Position / No. Of Entries

Rugby Sevens

ARFU U20 Sevens Series

Chui Ho-ching, Joshua Clery,
Danial Jeff Davidson*,
Calvin Tang Hunter,
Kwok Pak-nga,
Richard Nichol Lewis,
Edward Liam Owens,
Alexander Donnell Post,
Matthew Samuel Martin Worley,
Rupert Philips*,
Jason Jeyam*, Tomos Howells*
ARFU U20 Sevens Series,
2nd ranking - Men's 7-a-side
1st/7
ARFU U20 Sevens Series
(19/12/2014, Hong Kong)
Chui Ho-ching, Joshua Clery,
Danial Jeff Davidson*,
Calvin Tang Hunter,
Kwok Pak-nga, Richard Nichol Lewis,
Edward Liam Owens,
Alexander Donnell Post,
Eden Hugo Stiles,
Matthew Samuel Martin Worley,
Rupert Philips*, Jason Jeyam*,
Tomos Howells*
ARFU U20 Sevens Series,
Final ranking - Men's 7-a-side
1st/9
Squash
REDtone 8th KL Junior Open Squash Championships

Yuen Tsun-hei

Boys under 19

1st/28

(2/12/2014, Kuala Lumpur, Malaysia)

Lau Tsz-kwan

Boys under 19

2nd/28

Choi Uen-shan

Girls under 19

2nd/14

Old Chang Kee Singapore Squash Open

Lau Tsz-kwan

Boys under 19

1st/23

(17/12/2014, Singapore)

Lui Hiu-lam

Girls under 17

1st/18

Yuen Tsun-hei

Boys under 19

2nd/23

Ho Ka-wing

Girls under 17

2nd/18

Law Yat-long

Boys under 17

3rd/45
Table Tennis

GAC Group ITTF World Tour Grand Finals

Tang Peng

Men's Singles

3rd/16

(11/12/2014, Bangkok,Thailand)

Tenpin bowling

ABF Tour- Saudi Arabia

Mak Cheuk-yin

Men's event

3rd/16

(3/12/2014, Riyadh, Saudi Arabia)

Wheelchair fencing team (Hong Kong Paralympic Committee & Sports Association for the Physically Disabled)

IWAS Wheelchair Fencing Grand Prix - Hong Kong

Tam Chik-sum

Men¡¦s Epee Individual
(Cat. B)
2nd/30

(21/12/2014, Hong Kong)

Chan Yui-chong

Women¡¦s Foil Individual
(Cat. B)
3rd/18
Windsurfing

RS: One World Championships

Cheng Kwok-fai

RS: One Men

1st/42

(14/12/2014, Bintan, Indonesia)
*Non-HKSI Scholarship Athlete
---
HKSI¡¦s latest Annual Report available online
The Hong Kong Sports Institute (HKSI) has published its Annual Report for 2013/14, which provides a comprehensive account of its sporting achievements and work over the period. To view the report, please click here.
---
Shek Wai-hung presents awards at 37th Top Ten Chinese Gold Songs Award
Riding on a surge of popularity, Asian Games gymnastics gold medallist Shek Wai-hung was invited by RTHK to attend the 37th Top Ten Chinese Gold Songs Award presentation ceremony on 9 January, where he presented the Best Progress of the Year Award to three groups of young singers. The ceremony was an important annual event for the local pop music community. Presenting guests included celebrities from different sectors, with Shek and boxer Rex Tso representing the sports industry.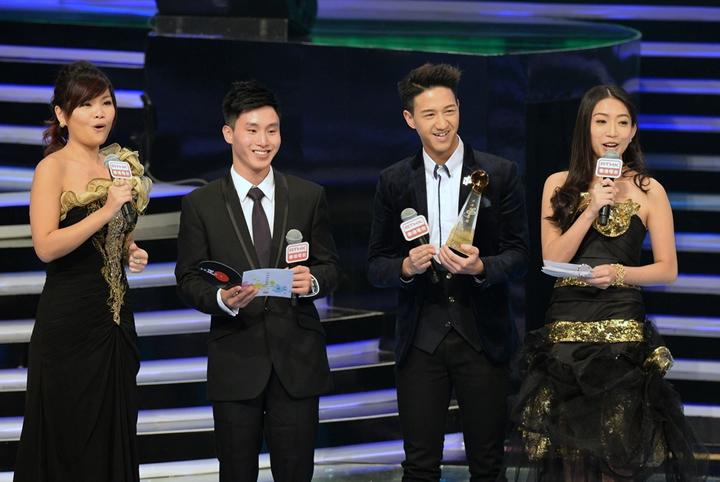 2nd from left: Shek Wai-hung
---
New titles at the Sports Information Centre (SIC)
Developing sport expertise : researchers and coaches put theory into practice (Second edition)
(Call no.: GV558 .D48 2013)
The authors share their knowledge and insights on the development of sports expertise, identifying and nurturing talent, developing and fine-tuning sports skills, and maintaining high levels of performance. This fully updated second edition examines the science behind sports skill acquisition and explores the application of science to optimal sports training, and talent identification. This authoritative reference is particularly helpful for sports managers and administrators, coaches as well as athletes.
The new geopolitics of sport in East Asia
(Call no.: GV 571 .N49 2014)
The book is a collection of articles written by renowned authorities, which review and discuss the shift of global power in the geopolitical, economic, cultural and social dynamics of sport from West to East. This book helps readers advance their knowledge in the area, and is highly recommended to all those involved in high performance training.