Hong Kong starred at windsurfing's RS:One World Championships winning the top titles in both the men's and women's competitions¡K
More

---

Fu gets back to winning ways in Gibraltar
Hong Kong snooker player Fu Ka-chun won his first ranking title since 2013 at the European Tour Event 5 in Gibraltar¡K
More

Three bronzes for HK juniors at world table tennis champs
Ho Kwan-kit helped Hong Kong's junior table tennis team to three bronze medals at the World Junior Table Tennis Championships¡K
More

Tam Chik-sum takes bronze in Sharjah
Tam Chik-sum took third place in the IWAS Wheelchair Fencing World Cup - Sharjah, his first major medal since winning gold at the Asian Games in 2014...
More
II. Sporting Achievements (1 - 31 December 2015)
---
Hong Kong dominates RS:One World Championships for third year in succession

Hong Kong starred at windsurfing's RS:One World Championships held from 7 – 12 December 2015 in Batangas, Philippines, winning the top titles in both the men's and women's competitions - the team achieved the feat for the third year in a row.

Lee Chun-ting took the men's title and Ngai Wai-yan the women's. Hong Kong added another medal as 2014 champion Ma Kwan-ching finished behind Ngai for silver.

While Ma and Ngai dominated throughout, Lee was not even in the top three after the first two days' racing before storming from behind on the final day to finish on 36 points, 4 ahead of Pascual Pedro of the US.

"Early on in the competition my performance was poor, with frequent mistakes, but I learned from them and then delivered my best to win," said Lee, who thanked his family, coaches and teammates.

Ma and Ngai were neck and neck early on but a disastrous 12 points in the 10th race pretty much ended Ma's hopes of retaining her title ahead of Ngai. Ngai finished on 19 points, Ma on 31. "This time we needed to deal with different wind conditions. It was a very good opportunity to hone our skill," said Ma.

The result strengthens Hong Kong's position as one of the top RS:One nations in the world in recent years: Cheng Kwok-fai was men's world champion the last two years, while Lo Sin-lam won the world and Asian women's titles in 2013.

Though RS:One is not in the Olympics, Lee, Ngai and Ma will surely hope to medal at the next Asian Games in Indonesia in 2018.

| | | |
| --- | --- | --- |
| Athlete | Event | Medal |
| Lee Chun-ting | RS:One - Men | Gold |
| Ngai Wai-yan | RS:One - Women | Gold |
| Ma Kwan-ching | RS:One - Women | Silver |

Lee Chun-ting
Ngai Wai-yan
---
Fu gets back to winning ways in Gibraltar

Hong Kong snooker player Fu Ka-chun won his first ranking title since 2013 at the European Tour Event 5 held on 9 - 13 December 2015 in Gibraltar.

Fu, the world No.14, beat Michael White 4-1 to qualify for the Players' Championship event in March.

After sharing the first two frames, Fu won three in a row to beat the Welshman.

"Winning it is like a dream come true," Fu said. "This is my first European Tour title and it is in Gibraltar so I will be back."

Fu also hit a maximum 147 break earlier in the competition, the fourth of his career.

Fu Ka-chun
(Photo provided by worldsnooker.com)
---
Three bronzes for HK juniors at world table tennis champs
Ho Kwan-kit helped Hong Kong's junior table tennis team to three bronze medals at the World Junior Table Tennis Championships held on 29 November - 6 December 2015 in Vendee, France.
Ho teamed up with Ng Pak-nam in the boys' doubles and Soo Wai-yam in the mixed, reaching the semi-finals in both before meeting opponents from China - who predictably dominated the event.
Hong Kong also reached the semis of the team event, with Ho and Ng joined by Lee Yat-hin and Kwan Man-ho.
| | | |
| --- | --- | --- |
| Athlete | Event | Medal |
| Ho Kwan-kit, Ng Pak-nam | Junior Boys' Doubles | Bronze |
| Ho Kwan-kit, Kwan Man-ho, Lee Yat-hin,Ng Pak-nam | Junior Boys' Team | Bronze |
| Ho Kwan-kit, Soo Wai-yam | Junior Mixed Doubles | Bronze |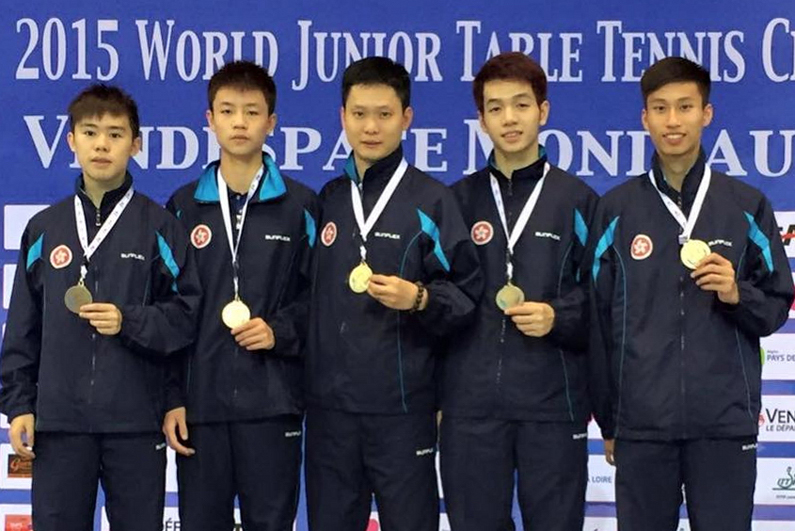 From left: Lee Yat-hin, Ng Pak-nam, Leung Chu-yan (Assistant Table Tennis Coach, HKSI), Ho Kwan-kit, Kwan Man-ho
---
Tam Chik-sum takes bronze in Sharjah

Tam Chik-sum took third place in the IWAS Wheelchair Fencing World Cup - Sharjah held on 16 - 20 December 2015 in Sharjah, UAE, his first major medal since winning gold at the Asian Games in 2014.

Tam's result came in the men's epee category B, with top seed and eventual winner Ali Amir of Iran beating him 15-11 in a close semi-final.

2nd from right: Tam Chik-sum
(Photo provided by the Hong Kong Paralympic Committee & Sports Association for the Physically Disabled)
---
Tenpin bowling team wins 2 medals at the ABF Tour - Saudi Arabia

The Hong Kong tenpin bowling team won 1 silver and 1 bronze medal at the ABF Tour - Saudi Arabia held on 8 December 2015 in Riyadh, Saudi Arabia.

| | | |
| --- | --- | --- |
| Athlete | Event | Medal |
| Kam Siu-lun | Men's Event | Silver |
| Tseng Tak-hin | Men's Event | Bronze |

Right: Kam Siu-lun
Right: Tseng Tak-hin
(Photos provided by the Asian Bowling Federation)
---
Elite results roundup (1 - 30 November 2015)
Sport

Name

Event

Position /
No. Of
Entries
Badminton
YONEX-SUNRISE Hong Kong Open Badminton
Championships (17/11/2015,Hong Kong)
Ng Ka-long
Men's Singles
3rd/44
Billiard Sports
WPA World Junior Pool Championships
(14/11/2015, Shanghai, China)
Lo Ho-sum
Boys' Under 19
3rd/32
Equestrian
CSI 3* Longines China Tour-The Hong Kong Jockey Club Cup Guangzhou Final
(28/11/2015, Guangzhou, China)
Cheng Man-kit
1.45m
2nd/26
Rugby Sevens
Asia Rugby Sevens Qualifier
(7/11/2015, Hong Kong)
Jack Alfie Capon,
Michael Coverdale, James Paul Hood,
Lee Ka-to, Christopher Russell Maize,
Alexander Robert McQueen,
Thomas William McQueen,
Keith James Robertson, Rowan Varty,
Max John Woodward,
Yiu Kam-shing
Men's 7-a-side
2nd/10
Squash
China Squash Championships
(7/11/2015, Xiamen, China)
Ho Tze-lok, Lee Ka-man,
Leung Chi-hin,
Lo Cheuk-hin, Wong Chi-him,
Yuen Tsun-hei
Mixed Team
1st/7
Table tennis
Portugal Junior & Cadet Open - ITTF Junior Circuit
Cheng Pak-hei
Cadet Boys' Singles
1st/54
(18/11/2015, Loule, Portugal)
Zhu Chengzhu
Junior Girls' Singles
1st/43
GAC Group ITTF World Tour Swedish Open, Major Series
(11/11/2015, Stockholm, Sweden)
Ho Kwan-kit
Men's Singles (U21)
3rd/60
Hungarian Junior & Cadet Open - ITTF Premium
Junior Circuit
(4/11/2015, Szombathely, Hungary)
Wong Chin-yau
Cadet Girls' Singles
3rd/69
Tenpin bowling
51st QubicaAMF Bowling World Cup
(13/11/2015, Las Vegas, USA)
Wu Siu-hong
Men's event
1st/86
Wushu
13th World Wushu Championships
Geng Xiaoling
Women's Changquan
1st/19
(14/11/2015, Jakarta, Indonesia)
Liu Xuxu#
Women's Daoshu
1st/12
Geng Xiaoling
Women's Gunshu
1st/14
Zheng Tianhui
Women's Shuangjian
1st/12
Liu Xuxu#, Yuen Ka-ying,
Zheng Tianhui
Women's Duilian
1st/4
Chen Suijin#
Women's Baguazhang
2nd/9
Liu Xuxu#
Women's Changquan
2nd/19
Yuen Ka-ying
Women's Nangun
2nd/14
Chen Suijin#
Women's Taijiquan
2nd/8
Chen Suijin#
Women's Taijijian
2nd/14
# Training Partners
*Non-HKSI Scholarship Athlete
---
Lee Chun-hei and Wu Siu-hong shares at the ¡§Children Storytelling Competition 2016¡¨ Kick-off Ceremony

Invited by Radio Television Hong Kong, shuttler Lee Chun-hei and tenpin bowler Wu Siu-hong attended the kick-off ceremony of "Children Storytelling Competition 2016" on 12 January 2016. The competiton is coorganised by The Boys' & Girls' Clubs Association of Hong Kong and has a history of 42 years. Riding on this year's theme "persistence", both of them shared their stories of being an athlete and how they demonstrated the spirit of persistence throughout the intensive trainings and competitions.

The competition aims to develop children with good reading habits, and to inspire them with educational and meaningful stories for setting a future goal. The final will be held in May.
From left: Wu Siu-hong, Lee Chun-hei
---
New titles at the Sports Information Centre (SIC)
Sport and exercise psychology: a critical introduction (Second edition)
(Call No.: GV706.4 .M674 2012)
Various essential areas of sport and exercise psychology are well-examined in this updated second edition. The nine insightful chapters explore topics from motivation and concentration, to team cohesion, health, exercise and injury rehabilitation. The author provides thought-provoking questions which inspire students to think critically about the conceptual, methodological, and practical issues in sport psychology. The book is presented in a very practical and straightforward manner. This introductory reference is best for athletes, coaches, athletic trainers, and sport psychologists.
Managing sport organizations: responsibility for performance (Third edition)
(Call no.: GV713 .M39 2013)
This book covers the theory and practice of contemporary sport management in 10 chapters. The authors include at the end of each chapter a summary, management exercise, and some questions for readers to consider, to help them understand the material. The third edition expands coverage of current topics such as corporate responsibility and ethics, social media, career pathways in sport management and international sport. This book is a good reference for sports administrators and it is an indispensable resource for all readers interested in sport management.