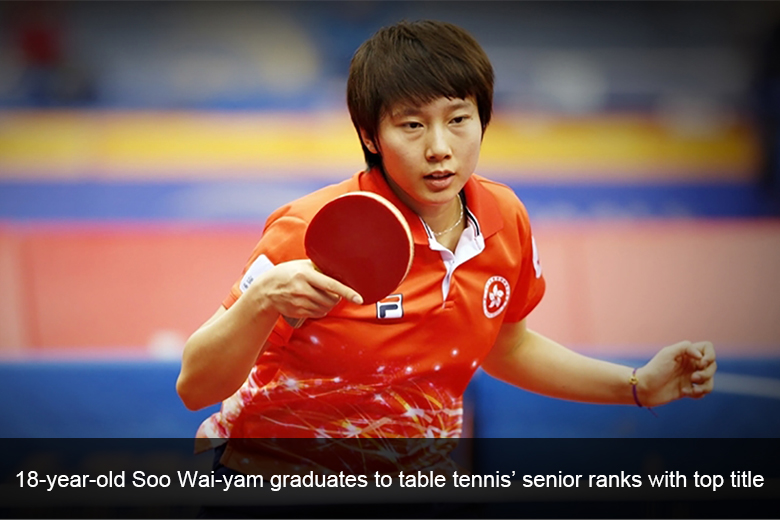 Soo Wai-yam graduated from table tennis' junior ranks in perfect fashion, winning the prestigious ITTF World Junior Circuit Finals in Indore, India … More


Good New Year start for Ng Ka-long who takes Malaysian Masters crown
Hong Kong Open champion Ng Ka-long added another title to his CV with victory at the Victor Far East Malaysian Masters in Sibu …
More


Fu, Ip and So contribute to impressive month for billiard sports
Hong Kong's billiard sports team recorded more fine results in January, with Fu Ka-chun reaching the semi-finals of the prestigious Masters and So Man-yan crowned runner-up in the Women's Masters …
More


Au Chun-ming claims silver in Pakistan
Au Chun-ming bagged a silver medal for Hong Kong's squash team at the President Gold Cup in Islamabad, Pakistan …
More
II. Sporting Achievements (1 ‑ 31 January 2017)
---
18-year-old Soo Wai-yam graduates to table tennis' senior ranks with top title
Soo Wai-yam graduated from table tennis' junior ranks in perfect fashion, winning the prestigious ITTF World Junior Circuit Finals held from 26 to 28 January in Indore, India.

Apart from a mid-game blip, the 18-year-old dominated her Japanese opponent Yuko Kato, beating her in five games (11-8, 11-8, 5-11, 11-5, 11-4) to lift the title.

She is now targeting a regular place in Hong Kong's senior team. "This was my last tournament as a junior," said Soo, whose senior world ranking rose to 55 in February on the bank of her win.

"Now that I am in seniors, I need to practise more and get better. My target is to make it to the national team."

She quickly took control of the match against Kato, hardly giving the Japanese player a look-in in the first two games.

Kato surprisingly turned the tables in the third before Soo reasserted her dominance to close out the win.

"I feel satisfied with my performance," Soo added. "I think technically I am a little better than her. Being mentally strong is important and I did well in that aspect.

"I was the top seed in this tournament, and I was feeling anxious each time I thought about becoming the champion. So I had to stay calm and focused. I was able to do that."

But Soo admitted that focus deserted her in the third game, "On the first point I was called out fault on my serve. That confused me and I became unfocused and lost seven consecutive points. I made a lot of mistakes instead of her winning the points.

"I told myself not to be too passive. I just had to continue my aggression."

And the win on Chinese New Year's Day was the perfect 'lai see' for Soo, who added, "I will go back to Hong Kong, have dinner together with friends and family - for which on my treat!"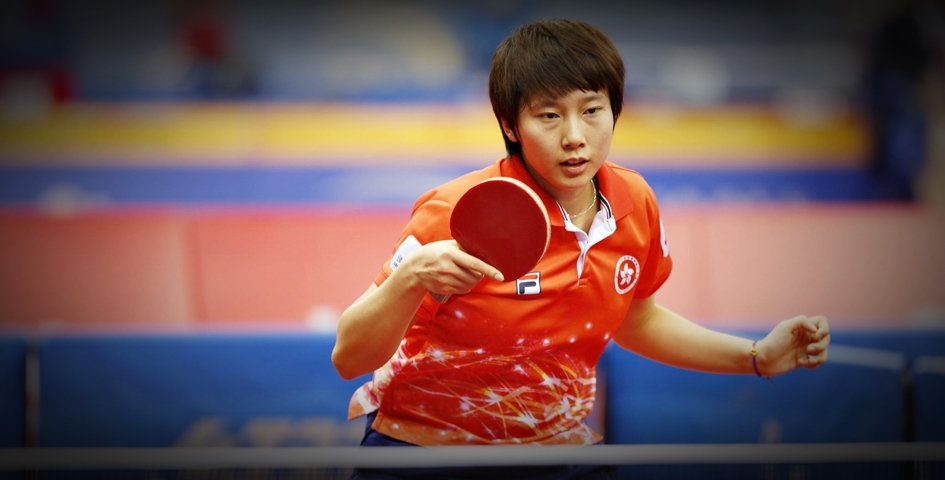 Soo Wai-yam
(Photo provided by the Hong Kong Table Tennis Association)
---
Good New Year start for Ng Ka-long who takes Malaysian Masters crown

Hong Kong Open champion Ng Ka-long added another title to his CV with victory at the Victor Far East Malaysian Masters held from 17 to 22 January in Sibu.

The Olympian, top seed for the Grand Prix Gold event, was handed the win after South Korean opponent Lee Hyun-il retired hurt with the score at 1-1.

Hong Kong's women's doubles pair Tse Ying-suet and Poon Lok-yan also reached the final of their event, but lost to the top seeds from Thailand.

There were also semi-final spots in the women's singles for Yip Pui-yin and Cheung Ngan-yi, and in the mixed doubles for Ng Tsz-yau and Tam Chun-hei.


| | | |
| --- | --- | --- |
| Athlete | Event | Medal |
| Ng Ka-long | Men's Singles | Gold |
| Poon Lok-yan, Tse Ying-suet | Women's Doubles | Silver |
| Cheung Ngan-yi | Women's Singles | Bronze |
| Yip Pui-yin | Women's Singles | Bronze |
| Ng Tsz-yau, Tam Chun-hei | Mixed Doubles | Bronze |

Ng Ka-long
From left: Tse Ying-suet, Poon Lok-yan
---
Fu, Ip and So contribute to impressive month for billiard sports

Hong Kong's billiard sports team recorded more fine results in January, with Fu Ka-chun reaching the semi-finals of the prestigious Masters and So Man-yan crowned runner-up in the Women's Masters.

In-form Fu was only denied a place in the final by superstar Ronnie O'Sullivan, who said his 6-4 win at London's Alexandra Palace "was probably the best I have [ever] won". The 'Rocket' went on to win a record seventh Masters title.

In the women's tournament in Derbyshire, the nigh-on unbeatable Reanne Evans had too much for So in the final, beating her 4-0. But it remained an impressive event for the Hong Kong team, with Ip Wan-in also reaching the semis, where she lost 2-4 to So. Ng On-yee was beaten by Ip in the quarters.


Athlete
Event
Medal
WLBS EDEN Women's Masters / 14 - 15 January / Derbyshire, United Kingdom
So Man-yan
Individual
Silver
Ip Wan-in
Individual
Bronze
Dafabet Masters / 15 - 22 January / London, United Kingdom
Fu Ka-chun
Individual
Bronze


Fu Ka-chun
(Archive photo : Leisure and Cultural Services Department)
Left: So Man-yan
---
Au Chun-ming claims silver in Pakistan

Au Chun-ming bagged a silver medal for Hong Kong's squash team but was left frustrated on missing out on the title at the President Gold Cup in Islamabad, Pakistan.

Top-seeded Au was upset by seventh seed Farhan Mehboob of the host nation in the final, going down in four games.

Farhan raced into a two-game lead before Au fought back bravely, but the local favourite came back strongly in the decider to win 11-4, 11-4,
8-11, 12-10.

Meanwhile, there were impressive bronze medals in the British Junior Open for Hong Kong's Chan Sin-yuk and Lui Hiu-lam, who reached the semis of the girls' U15 and U17 events respectively.

Au Chun-ming
(Photo provided by the Hong Kong Squash)

Athlete
Event
Medal
Tecnifibre British Junior Open Squash / 2 - 6 January / Sheffield, United Kingdom
Chan Sin-yuk
Girls' Under 15
Bronze
Lui Hiu-lam
Girls' Under 17
Bronze
President Gold Cup International Squash Tournament / 3 - 6 January / Islamabad, Pakistan
Au Chun-ming
Men's Singles
Silver
---
Elite results roundup (1 ‑ 31 December 2016)
Sport
Name
Event
Position /
No. Of Entries
Badminton

OUE Singapore Youth International Series

Ko Shing-hei

Men's Singles (U15)

1st/27

(29/11-4/12/2016, Singapore)

Lui Lok-lok, Tsang Hiu-yan

Women's Doubles (U15)

3rd/27

Chow Hin-long, Lee Chun-lai

Men's Doubles (U19)

3rd/18

Billiard sports
Coral Scottish Open
(12-18/12/2016, Glasgow, United Kingdom)

Fu Ka-chun

Individual

1st/128

Rugby sevens
Asia Rugby Under 18 Girls Sevens Championship
(30/11-2/12/2016, Dubai, United Arab Emirates)
Jamie Claire Bourke*,
Beatrice Bourron*,
Kelsie Anne Bouttle*,
Chui Kam-chi*,
Breanna Clare Coey*,
Jessica Eden*,
Maelle Mayllis Picut*,
Amy Jane Pyle*,
Lara Jane Schats*,
So Yee-kei*,
Hebe Philomena Talas*,
Wong Kit-ying*

Women's 7-a-side

1st/6

Sailing

ASAF Youth Sailing Cup #1

Nancy Highfield

Laser 4.7

2nd/23

(15-20/12/2016, Chennai, India)

Oriane Voets

Optimist Girls

3rd/23

Table tennis

Sun International World Junior Table Tennis Championships

Mak Tze-wing

Junior Girls' Singles

2nd/95

(30/11-7/12/2016, Cape Town, South Africa)

Ng Pak-nam

Junior Boys' Singles

3rd/96

Liu Qi, Wong Chin-yau

Junior Girls' Doubles

3rd/20

Mak Tze-wing, Soo Wai-yam

Junior Girls' Doubles

3rd/20

Liu Qi, Mak Tze-wing,
Soo Wai-yam, Wong Chin-yau

Junior Girls' Team

3rd/41

Seamaster Qatar ITTF World Tour Grand Finals

Doo Hoi-kem

Women's Singles (U21)

2nd/8

(8-11/12/2016, Doha, Qatar)

Doo Hoi-kem, Lee Ho-ching

Women's Doubles

2nd/8

Tenpin bowling
World Singles Championship
(2-9/12/2016, Doha, Qatar)

Mak Cheuk-yin

Men's event

3rd/81
*Non‑HKSI Scholarship Athlete
---
LegCo Panel on Home Affairs visits HKSI

A delegation of The Legislative Council Panel on Home Affairs paid a visit to the HKSI on 17 January to keep abreast with the latest development of elite sports training in Hong Kong. Accompanied by the Secretary for Home Affairs, Mr Lau Kong-wah JP; the Commissioner for Sports, Mr Yeung Tak-keung JP; HKSI Chairman, Mr Carlson Tong Ka-shing SBS JP; Chief Executive, Dr Trisha Leahy BBS and senior management, the delegates toured at the HKSI's state-of-the-art training facilities followed by a luncheon where members of the Panel, the Home Affairs Bureau and the HKSI exchanged views on local sports development. The Panel members indicated their support to Hong Kong elite athletes with a hope that they will continue their dedication in sports and bring glory to Hong Kong.

Panel members who participated in the visit included the Chairman of Legislative Council Panel on Home Affairs, Hon. Ma Fung-kwok SBS JP; Panel members: Hon. Paul Tse JP, Hon Leung Kwok-hung, Hon. Chan Chi-chuen, Hon. Yung Hoi-yan, Hon. Luk Chung-hung, Hon. Lau Kwok-fan MH and Hon. Nathan Law; as well as non-Panel members Hon. Poon Siu-ping BBS MH and Dr Chiang Lai-wan JP.

Figure 1
Figure 2
Figure 3
Panel members visited HKSI Scientific Conditioning Centre (Figure 1), Table Tennis Hall (Figure 2) and Fitness Training Centre (Figure 3).
---
The Asian Football Confederation (AFC) President Travelling Fellows visit HKSI

Three participants of The Asian Football Confederation (AFC) President Travelling Fellow for Football Medicine 2017 programme visited the HKSI on 22 February. The group was introduced to the range of sports science and medicine services and training facilities provided at the Institute, and had a good exchange of views and experiences with our sports scientists and coaches.

From left: A/Prof. Luo Anmin (Travelling Fellow), Dr Bahar Hassanmirzaei (Travelling Fellow), Dr Raymond So (Director, Elite Training Science & Technology, HKSI), Dr. Akegapon Tangmanasakul (Travelling Fellow)
---
HKSI Athletes' Annual Party

The 2017 HKSI Athletes' Annual Party was successfully held on 3 February at Courtyard by Marriott Hong Kong Sha Tin, involving nearly 280 participants including athletes, coaches and guests. The party provided an important platform for athletes to establish social connection with each other by exchanging experience, participating in group games and demonstrating their talents in other aspects through various performances including band show and dancing.

---
Chan Chun-hing rides for charity

Cyclist Chan Chun-hing participated in the Vita Green Cycling for Health Marathon Challenge 2017 on 22 January. He was invited to join the Celebrities Team and was happy to see that sport has become a very popular activity for fund raising, promoting good health and helping the needed.

The event was co-organised by Vita Green Charitable Foundation and the Central and Western District Council, with an aim to promote cycling as a trendy and an effective fitness sport, as well as to encourage green living.

Middle: Chan Chun-hing
---
Sze Hang-yu shares her story with young audiences

Presented by the Narcotics Division of the Security Bureau, Action Committee Against Narcotics and the Hong Kong Jockey Club Drug InfoCentre, the GiveMe5 Youth Series invited swimmer Sze Hang-yu to attend a sharing session on 7 January. Sze revealed how she started swimming and her path to becoming a world-class swimmer at the sharing and hoped that her story could inspire the younger generation to pursue their dreams.

Sze, together with tenpin bowler Wu Siu-hong, attended another sharing session organised by the Hong Kong Army Cadets Association on 22 January for celebrating its 2nd anniversary. She looked back on her achievements in 2016 and expressed that she would review her training plan for the Asian Games next year.

Middle, first row: Sze Hang-yu
From 2nd left: Sze Hang-yu, Wu Siu-hong
---
Three elite swimmers participate in RTHK Top Ten Chinese Gold Songs Award as Presenters

Riding on a surge of popularity, Olympians Au Hoi-shun, Kong Man-yi and Sze Hang-yu were invited by RTHK to attend the 39th Top Ten Chinese Gold Songs Award presentation ceremony on 4 January. The ceremony was an important annual event for the local pop music community, where they presented the Best Progress of the Year Award to three groups of young singers.
From 2nd left: Kong Man-yi, Au Hoi-shun, Sze Hang-yu
---
New titles at the Sports Information Centre (SIC)
The psychology of doping in sport
(Call No.: RC1230 .P79 2016)
The book consists of 16 chapters with four different sections, exploring a broad range of topics from psychosocial processes underlying doping use, methodological considerations in doping research, ethical aspects and implications in doping use and control, to doping research and prevention. This practical reference is contributed by a group of leading experts from around the globe including Australia, Canada, Denmark, England, Germany, Greece, Ireland, Italy and the United States. It is a valuable resource for students and researchers in sport and exercise science. Sport medicine practitioners, coaches, and sports administrators can also deepen their understanding on the doping behaviours of athletes in sport by reading the book.
Sports injury prevention and rehabilitation: integrating medicine and science for performance solutions
(Call No.: RD97 .S657 2016)
The book introduces evidence-based best practice in sports injury prevention and management in its six different sections. It offers a series of learning sessions in injury process such as management of the injured athlete, injury prevention, performance rebuilding for athletes and so forth - guiding one through the whole "return to competition" process after injury. This book is a must-have for coaches, clinicians, physical therapists or sport scientists who are working for prevention or rehabilitation of sports injuries.